Mandy Estrada
Staff Writer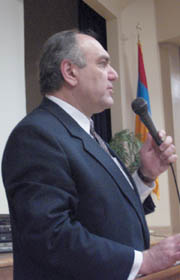 Dr. Levon Chookaszian is the author of a monograph, over 200 reviews and articles for several scholarly journals, as well as numerous entries for international encyclopedias and reference texts. Numerous members of the community gathered at St Paul Armenian Church at 7:30 PM, on February 10, to attend a brilliant lecture given by Dr. Chookaszian on "Art in Medieval Armenian and the Balkans." The lecture was part of the Armenian Studies Program Spring 2003 Lecture Series and was co-sponsored by St. Paul Armenian Church.
CSU Fresno's Dr. Dickran Kouymjian, Director of the Armenian Studies Program, introduced Dr. Chookaszian and discussed his contributions to Armenian art research and briefly listed some of his achievements.
This introduction was followed by a brief background given by Dr. Chookaszian about past, present, and future projects that he is leading or involved in. Dr. Chookaszian has been a SOROS Research Fellow at the Center for Advanced Study in the Visual Arts at the National Gallery of Arts in Washington, D.C. and is currently in the process of concluding his monograph on the medieval artist Toros Roslin. Dr. Chookaszian is presently the Director of the UNESCO Chair of Armenian Art History at Yerevan State University in the Republic of Armenia.
Professor Chookaszian has also been a regular participant in the National Association for Armenian Studies and Research (NAASR) lecture series and has examined a vast range of issues in ancient and medieval Armenian art. He has spent years researching and writing about numerous topics in Armenian art of the medieval era. Dr. Chookaszian's field of expertise is in manuscripts and manuscript illuminations and he has published about Armenian art works such as manuscripts, portraits, khatchkars (stone-crosses), miniatures, and modern Armenian artists.
The lecture was exceptionally interesting. Dr. Chookaszian, utilizing a Power Point presentation, showed several images from the Adrianople Gospel (1007AD), now in Venice at the Mekhitarist Congregation, discussing when they had been painted, where they had been executed, and the Gospels' relationship to Armenia. Some examples of the scenes shown included the "Portrait of St. Mark and St. Matthew," "St. Gregory the Illuminator," also found in Venice, followed by many other exquisite works. Dr. Chookaszian also brought along with him quite a few manuscript reproductions, painted by hand in Armenia, for sale. At the conclusion of his lecture, Dr. Chookaszian answered questions from the public.
When asked what he expected from the people that attended these lectures, he stated that, "I would like people to become more aware and educated about all that Armenian art and related art has to offer to the world." He also commented that these works were very significant to understanding the evolution of Christian art.
All this came to its finale with coffee, tea, pastries, and a lot of discussion. I found Dr. Chookaszian to be a very eloquent gentleman who gets to the point and makes his lectures as well as the topic interesting enough to inspire you to go out and do your own research.