Svetlana Bagdasarov
Staff Writer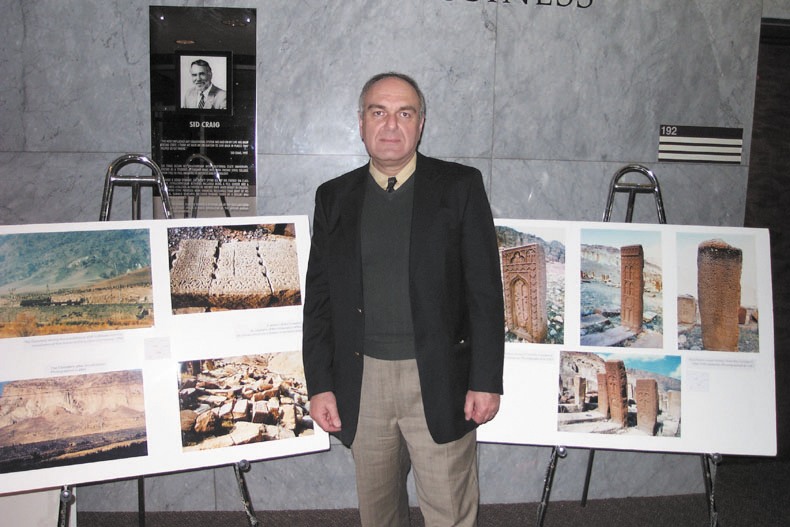 A large crowd of people gathered inside the Alice Peters Auditorium-University Business Center at Fresno State at 7:30 PM, on Wednesday, February 15, to hear a highly anticipated lecture on "Armenian Merchants of Isfahan: The Dissemination of Armenian Art Between East and West." Though he has visited Fresno State before with his intriguing lectures on Armenian art, Dr. Levon Chookaszian, Chair of the Department of Art History at Yerevan State University, was invited once again to enlighten the Armenian community with a presentation about the importance of historic art and its fascinating background.
In addition to the "Dissemination of Armenian Art Between East and West," Dr. Chookaszian spoke about the recent destruction of Armenian khatchkars (stone-crosses) in Nakhichevan. Both presentations were accompanied by various slides of significant imagery. Everything from beautiful churches and paintings to elaborate textiles were shown during the presentation. Dr. Chookaszian did such a wonderfully thorough job describing each slide that the audience was utterly speechless and engrossed in the presentation. Many people were so interested in Dr. Chookaszian's topic that they couldn't wait to ask questions or contribute their own thoughts.
The lecture, which was co-sponsored by the Armenian Studies Program and Armenian Students Organization, ended on a positive note with many individual discussions with the speaker. What was particularly interesting about this event was the fact that many seats in the auditorium were taken up by academics from numerous places, all with their own ideas and opinions about the subject of Armenian art.
As a special treat for the attendees, Dr. Chookaszian brought along plenty of visual aids to further heighten everyone's interest. Poster-size color photographs of Armenian churches and khatchkars were displayed in the Gottschalk's Gallery. Many depicted the churches and khatchkars before and after they had intentionally been destroyed. The photographs were prepared by Research in Armenian Architecture (RAA).
The event went extremely smoothly thanks to the beloved advisors, Dr. Dickran Kouymjian and Professor Barlow Der Mugrdechian of the Armenian Studies Program, who organized the presentation. One can wish that Dr. Chookaszian will continue to honor us with his astounding intellect in the years to come.