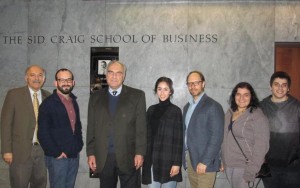 Elina Karapetyan
Staff Writer
The Armenian people have traveled a long and difficult path throughout history. They have persisted as a people in spite of devastating circumstances and even Genocide. This nationality was founded upon resilience, strength, courage, loyalty and honor. These noble characteristics of the Armenian people are inevitably represented in art.
On Tuesday, February 7, Dr. Levon Chookaszian, UNESCO Professor and Chair of Art History at Yerevan State University, presented a lecture on "The Silk Road and Armenian Textiles Throughout the Centuries," organized by the Armenian Studies Program and co-sponsored by the Leon S. Peters Foundation.
For many centuries Armenians were involved in international trade as middlemen between the East and the West. The routes where merchants traveled and conducted their business eventually became known as the Great Silk Road.
Dr. Chookaszian introduced the audience to many examples of Armenian textiles represented in various forms of art, including miniature painting and sculpture. He discussed the incredible significance and quality of expert Armenian craftsmanship. The beauty and intricacy of the hand woven rugs and priceless silks and textiles, in a way, define who the Armenian people are.
Dr. Chookaszian's presentation covered the art produced by Armenians in different regions, such as the Kingdom of Cilicia, which illustrated the Armenian textile work.
Armenian manuscripts also give insight into the production of Armenian textiles. For example Toros Roslin painted the images of Prince Levon and Keran, who are depicted wearing sumptuous and beautiful woven textiles. Armenian manuscript painters such as Sarkis Pitdzak and Toros Taronatsi frequently painted images that demonstrated what types of Armenian woven materials were in use.
The famed Marco Polo traveled through historic Armenia and while visiting Garin (Erzerum), described the beautiful carpets that were made by Armenians.
According to Dr. Chookaszian, over fifty percent of Armenian art has not yet been interpreted or studied.
"The discovery and exploration of Armenian art is crucial for understanding the history of artistry, now more than ever, as Armenians continue to disperse around the globe. It is easy to get lost in another culture, but assimilation should not replace one's own heritage and rich culture. It is when comparing a country's legacy to other nations that people realize what they have and how rich they really are."
According to Dr. Chookaszian, women were also very influential when it came to weaving textiles. He used examples such as women depicted weaving on stone sculptures in Armenian graveyards from 17thc. Isfahan, Persia.
This represents a permanent testimony of the influence that women have had in the creation of the Armenian culture.
In the more modern era, artist Hagop Hovnatanian represented many works of Armenian clothing is his paintings of the Armenian noble women of Tiflis.
A trailblazer in his field, Dr. Chookaszian is well aware of the immense amount of work and investigation that still needs to be done in the field.