Hagop Ohanessian
Staff Writer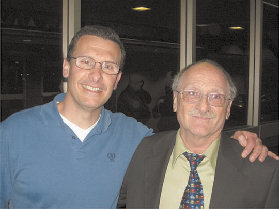 Dr. George Bournoutian, Professor of History at Iona College in New York, was appointed as the seventh Henry Khanzadian Kazan Visiting Professor of Armenian Studies for the Spring 2009 semester. This semester he taught a three unit course on the Armenian Diaspora and Genocide, Monday evenings from 6:00-8:50 PM. The course focused primarily on the Diaspora, that began with the fall of the Arshakuni Kingdom, the first partition of Armenia in the fourth century, and continued through the political upheavals of the twentieth century, and up to the present day.
When asked about his class and students at Fresno State, Dr. Bournoutian stated, "I would rate my students as very good." He was impressed with how well his students did on their midterm, "Several students in particular received an A on the midterm." Dr. Bournoutian believes in research and seminars for students, over memorization.
Each student in the class chose a topic on the Diaspora or the Genocide and wrote a research paper. Some of the topics chosen by students included writing about the Armenian communities of Russia, France, Greece, Poland, Hungary, Iran, Syria, Lebanon, Turkey, Argentina, the United States, and many more. Other students focused on the Armenian Genocide, the first Genocide of the twentieth century.
The most memorable moments for Dr. Bournoutian were his three public lectures where he talked about three important Armenian Diasporan communities. All three presentations were fascinating, in particular the one on Southeast Asia where he showed photos of the different Armenian churches.
When Dr. Bournoutian was asked about what he felt was different about teaching in Fresno from other places he answered by stating, "The Armenian Center, the director, and the staff of the university was extremely friendly." This is interesting because Fresno State is one of only a few other programs that has a strong Armenian Studies undergraduate program. Dr. Bournoutian enjoyed his stay in Fresno and in particular he loved the fruits and the trees blooming all over the Valley. When asked if he would return to Fresno to teach another course his answer was a definite yes.
On behalf of the students taking his class at Fresno State, we thank Dr. Bournoutian for all of his hard work and dedication.