Emma Shaljyan
Staff Reporter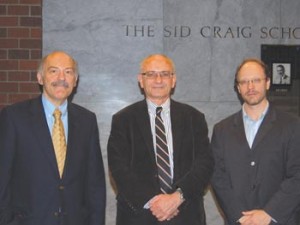 Dr. Stephan Astourian, Director of the Armenian Studies Program at the University of California, Berkeley, presented a talk on "The Path to the Armenian Genocide," on April 30, to conclude the Spring 2012 lecture series of the Armenian Studies Program at Fresno State.
During his lecture Dr. Astourian spoke about perspectives on the cultural, social, economic, and demographic issues affecting Kurds and Turks, as well as the Armenian population, in the early twentieth century.
Anarchy and organized oppression of the Armenians in the Eastern provinces of the Ottoman Empire was prevalent in the late 19th century. Political persecution, primarily aimed at the Christian population was on the rise, and there was an increase in expropriation of land from the Armenian peasants in the 1800s.
The "Armenian Question" evolved into a political issue in the context of European involvement in the fate of the Ottoman Empire, and in the context of how Armenians were treated in the Ottoman Empire, from 1839-1876. The 1878 Treaty of San Stefano, and the succeeding Congress of Berlin are the international treaties that form the basis of the "Armenian Question."
Dr. Astourian also discussed the 1895-1896 Armenian massacres. "Those were meant to send a message to the European powers stating that they could not do anything," stated Dr. Astourian, "because the Ottomans were still going to massacre the Armenians."
Dr. Astourian discussed two Armenian political parties: the Hnchakian party (1887) and the Dashnaktsutiun (Armenian Revolutionary Federation) (1890) and how the Armenian revolutionary movement developed after the Congress of Berlin failed to solve the "Armenian Question."
During his lecture, Dr. Astourian clearly outlined the reasons why the "Armenian Question" developed and discussed the path to the Armenian Genocide, from the 1890's to 1915.
Dr. Astourian is completing manuscripts for two books using a variety of sources and materials. The first is on Armenian-Azerbaijan relations in the twentieth century, and the second is about the origins of the Armenian Genocide, using primary sources.