Staff Report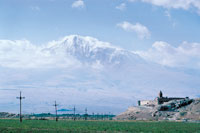 Professor Arra Avakian of Fresno, retired professor of Armenian Studies at Fresno State, has donated his entire library of color slides to the Armenian Studies Program.
The collection constitutes more than 12,000 slides taken over forty years of travel by Dr. Avakian.
The slides cover a wide number of places visited by Dr. Avakian, especially slides of important monuments and sites, such as Etchmiadzin, Mt. Ararat, Khor Virap, and Sardarabad, in the Republic of Armenia.
Dr. Avakian has also visited historic Armenia several times, and his slides of Van, Arapgir, Adana, and many other locations in historic Armenia, are of great historic value and interest.