Hakop Tataryan
Staff Writer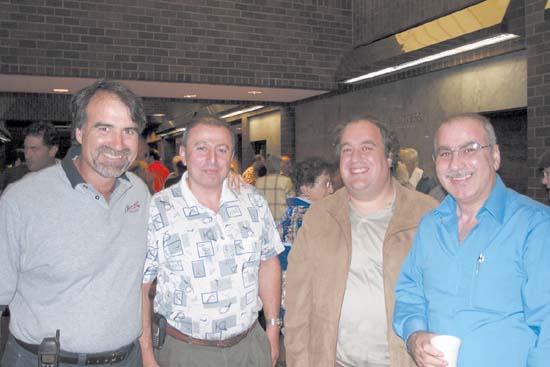 On Wednesday, November 19th, 2003 a large audience attended the last of the three-part Armenian Studies Program Kazan lecture series on "The Quest for Mountainous Karabagh." Dr. Ara Sanjian, who is the Kazan Visiting Professor of Armenian Studies this fall, lectured on "The Armenian Church in Mountainous Karabagh Under Soviet Rule." The first two lectures in this series also dealt with topics regarding Mountainous Karabagh.
Dr. Sanjian presented a chronology of events that involved the Armenian Church in Karabagh and the oppression it faced from the Soviet government from 1923 to 1989. His lecture touched upon the activities of various Armenian Church leaders in Karabagh and their contributions to the Christianity in this region.
Armenia adopted Christianity sometime in the early fourth century. Neighboring Caucasian Albania followed suit. The church of Amaras in the Martuni region of Mountainous Karabagh, is one of the oldest functioning Armenian churches. The history of Christianity in the Armenian province of Artsakh (the old name for Mountainous Karabagh) had close links with the developments in Albania next door. Early in the twentieth century, there were some 118 churches and 12 monasteries in Karabagh. In 1887, the construction of the biggest Armenian Church in the world had been completed in Sushi.
When the Bolsheviks came to power in 1920, the Armenian Church and other churches felt the bellicose oppression from the Soviet Union. His Holiness Gevorg V (reigned 1911-1930) witnessed some of the worst attacks against the Armenian Church in Karabagh as well as in other parts of USSR. Prior to the 1940s the Soviets wanted to completely rid their territory of Christianity and other religions. Although they eventually couldn't complete their task, they were largely successful in curbing its activities. Particularly in Karabagh, there were no active Christian services from the late 1930s to 1989.
The Soviet policy changed somewhat after 1941; the state now only wanted to control the already humbled church. Thus the government was actively involved in the selection of church leaders.
In 1955, Catholicos Vazken I was elected. He first managed to have fifty Armenian typewriters delivered to Karabagh and in 1957 made his first visit to the region. This was some feat at the time. Furthermore, he strongly advocated the return of Karabagh, Nakhichevan, and Akhalkalak to the jurisdiction of Soviet Armenia. Moscow was quick to remind him however that the scope of his jurisdiction did not include things political.
In 1988, Catholicos Vazken appointed the young bishop Pargev Martirosian as head of the church in Mountainous Karabagh, and, in 1989, the first service took place in the Gandzasar monastery.
The church had survived through turmoil and resentment in Karabagh and now is witnessing a rebirth.
In all, it was once again a praiseworthy lecture given by Dr. Sanjian.