John Jabagchourian
Editor
After the devastation of the December 7, earthquake in Leninakan (now called Gyumri), Armenia eleven years ago, it is hard to believe that survivors who had lost nearly everything could maintain hope through the pains of their tragedy.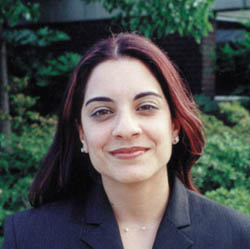 Yet stories of people crushed with despair but filled with hope and inspiration were the subjects of the documentary "Surviving on the Richter Scale," presented at St. Paul Armenian Church on April 27.
Araz Artinian, a 26 year-old filmmaker from Montreal, Canada, visited Fresno to present her film, a documentary on the 1988 Armenian Earthquake. Artinian brings to the screen the vivid stories of 11 survivors who describe their hopes and optimism for the future as it masks their everyday struggles amongst the aftermath.
"Surviving on the Richter Scale" is well acclaimed for Artinian's ability to emphasize the positive aspects of the survivors' lives over the negative. The story of Martin Pashayan is an example of inspiration in her documentary. Pashayan, a French teacher in Armenia, witnessed his students die when the earthquake shattered his classroom. He went home to find his wife and children dead amongst the debris. Pashayan was overcome by depression and sorrow; however, he found the willingness to live as he translated for French physicians during rescue missions and went back to teaching, first in tents, and then in the new French School of Gyumri.
Pashayan's story is just one of the many stories providing hope for those still devastated by the earthquake.
Artinian's interest and inspiration for the project goes back to when she and her father, an architect, would collect articles published in papers about the earthquake. For ten years she carried the images from the news clippings of her fellow Armenians suffering. In her final year at Concordia University she decided to use her archive in her basement as the bases for her research and put together this documentary.
The 44-minute documentary was a culmination of seven months of research, one month of interviewing and filming in Armenia and 12 months of post-production.
"Surviving on the Richter Scale" has received many awards and accolades including Best Documentary award at the 29th Montreal Student Film Festival, a Silver Hugo at the 35th Chicago International Film and Video Festival and a Bronze Plaque at the 47th Columbus International Film and Video Festival in Ohio.
The Armenian Studies Program and St. Paul Armenian Church Parish Mission Program co-sponsored the special Fresno showing of "Surviving on the Richter Scale."