By Barlow Der Mugrdechian
Armenian Studies Program
More than 100 students and community members experienced an emotional evening watching the United States premiere of the documentary "Destination Nowhere: The Witness," which was screened on Tuesday, April 25.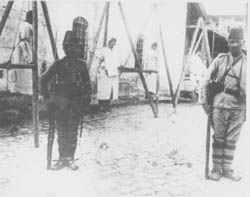 Audience reaction to the movie was intense, as demonstrated by written comments on a an evaluation form which was distributed to viewers. Comments included: "It was a great and moving film…," "It was an excellent film that really touched our hearts…," "It was an excellent presentation…," and "The movie was very informative and well presented."
The documentary depicted Armin Wegner's personal testimony to the Armenian Genocide through vivid and often disturbing photographs, which were taken while he served in the German army in Ottoman Turkey in 1915-1916, dramatically bringing to life the Armenian Genocide of 1915.
Wegner photographed the destruction of Armenians in the deserts of Der Zor, and his photographs provide some of the most powerful images we have of the Armenian Genocide. He was recently honored at the Armenian Genocide Museum in Yerevan, Republic of Armenia, for championing the plight of Armenians until the end of his life.
It was expected that Dr. Martin Rooney, a specialist on Armin Wegner would be in the United States from Germany to talk about the film and more about Armin Wegner. Due to health reasons Dr. Rooney was unable to come to the United States. Barlow Der Mugrdechian of the Armenian Studies Program introduced the film and read a brief biography of Armin T. Wegner. Armin T. Wegner's (1886-1978) collection of glass picture plates and negatives are in the Schiller Museum and Literature archive in Marbach am Neckar. Only 32 of the approximately 200 pictures are related to the Armenian Genocide.
Scholars Tessa Hofmann and Gerayer Koutcharian have written an article on "Images the Horify and Indict": Pictorial Documents on the Persecution and Extermination of Armenians from 1877-1922, which appeared in Volume 45, Spring/Summer 1992 of the Armenian Review. Their article focuses on the issue of photo documentation of the Armenian Genocide and includes many of the horrifying photos which make Wegner's work so important to Genocide documentation.
The presentation of the film was co-sponsored by the Armenian Students Organization and Armenian Studies Program as part of a week long series of activities in commemoration of the Armenian Genocide. The Gomidas Institute Outreach Program organized the screening of the film.
For information about screening the film in your community contact the Gomidas Institute at wegner@gomidas.org.