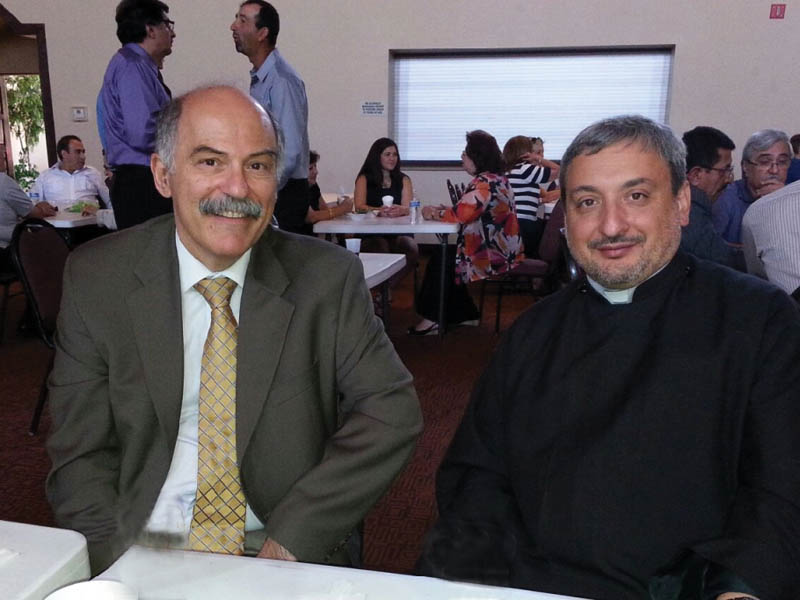 STAFF REPORT
Prof. Barlow Der Mugrdechian, Coordinator of the Armenian Studies Program was invited by Scottsdale Community College (Arizona) to speak as part of a program entitled "Genocide Awareness Week: Not on Our Watch," which was held April 7-11. The "Genocide Awareness Week" was co-sponsored by the St. Apkar Armenian Apostolic Armenian Church of Scottsdale.
Der Mugrdechian's presentation, "The Armenian Genocide: On the Eve of 100 Years," held on Friday, April 11, was attended by more than 150 students and faculty, as well as interested participants from the Armenian community.
Rev. Fr. Zacharia Saribekyan, pastor of the St. Apkar Armenian Apostolic Church introduced Der Mugrdechian, who focused his talk on documentation of the Armenian Genocide, with special emphasis on a new book jointly published by the Gomidas Institute (London) and Armenian Studies Program, called Inside Constantinople: A Diplomat's Diary During the Dardanelles Expedition, April-September 1915 by Lewis Einstein.
Einstein's memoir provides eyewitness testimony, from the perspective of an American diplomat, about what was occurring to Armenians in the Ottoman Empire, at the beginning of what later would be called the first Genocide of the modern era. Einstein was a special agent of the United States State Department, who was based in Constantinople in 1915. Henry Morgenthau's more familiar Ambassador Morgenthau's Story, published in 1918, also provides firm documentation by American officials as to what was happening in Ottoman Turkey.
In his talk Der Mugrdechian discussed some of the factors that led to the Armenian Genocide, such as the ideology of pan-Turkism, and also discussed the wealth of Armenian memoir literature and oral histories.
This was the second year that the "Genocide Awareness Week" was held and the April event featured speakers, art exhibitions, a two-day workshop on peace building, and a play.
John Liffiton, an English professor and the organizer of the event, said that it is important that people realize the frequency of genocide in the 20th century.
Der Mugrdechian was also invited to speak after Palm Sunday Services at St. Apkar Armenian Church, presenting an informative power point on "Armenian Jerusalem," a particularly pertinent talk since it came on the day Christians celebrate the Entry of Jesus into Jerusalem.