Staff Report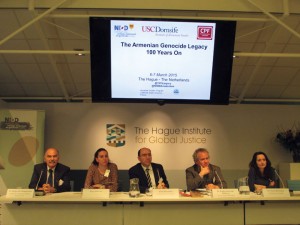 A conference, entitled "Legacy of the Armenian Genocide 100 years later" was held at the Institute for Global Justice in The Hague, Netherlands, March 5-7, 2015.
The conference was organized by the National Institute for War, Holocaust and Genocide Studies (NIOD) of the Netherlands, the Institute for Armenian Studies at the University of South California and the Centennial Project Foundation. The Armenian Studies Program at California State University, Fresno was a sponsor for the Conference.
During the conference on March 6-7, well-known scholars delivered papers, discussing the consequences of the Armenian Genocide from different perspectives, as well as mechanisms for preventing future acts of genocide. Prominent lawyer Geoffrey Robertson touched upon the issues of law and policy.
On March 7, Prof. Barlow Der Mugrdechian discussed expressions of the Genocide in modern Armenian-American literature during a session entitled "The Catastrophe's Legacy."
armeniangenocide100.org/en/conference-entitled-legacy-of-the-armenian-genocide-100-years-on-held-in-the-hague-2/
On March 21-22, a group of Arizona State University College of Law students, held a conference commemorating the Armenian Genocide. The conference featured two distinguished keynote speakers, Professor Taner Akçam and Professor Peter Balakian. Prof. Der Mugrdechian spoke on "The Dimensions of Genocide."
http://conferences.asucollegeoflaw.com/azarmgenocide/