ANDREW ESGUERRA – Staff Writer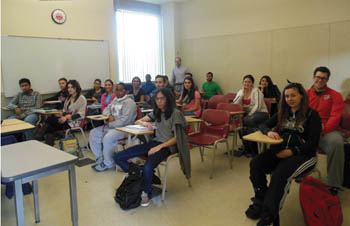 The Armenian Studies Program has energized the San Joaquin Valley Armenian community by being a staple for armenology in the region. The Program highlights Armenian culture through guest speakers, publications, study abroad opportunities, and courses, and there are very few aspects of Armenian identity with which the Program is not involved.
One such example is the introductory course to the Program, Armenian Studies 10, Introduction to Armenian Studies, which delves into the subject areas that many Armenians consider fundamental to their heritage—and therefore it is a class that Armenians and non-Armenians alike should take during their tenure at Fresno State.
The class focuses around five major facets of Armenian identity: language, history, faith, literature, and the Genocide and Diaspora.
According to Professor Sergio La Porta, who taught the course in Fall 2013, the class discusses the life of Tigran the Great and then moves through history touching on significant historical events, leading to the Armenian identity that has developed in the modern era.
Students in the class experience a "holistic view of Armenian-ness," according to Prof. La Porta. The class weaves through the historical importance of Christianity to the Armenian people, a fundamental idea of geography, and the acculturation of Armenians into American life.
This overview of the Armenian cultural identity is designed to encourage all students, Armenian and non-Armenian alike, to think about their own cultural background—the language they speak at home, their beliefs, and their family history.
This class is offered as the first step for those who may be interested in further expanding their knowledge of the Armenians, with many topics in the course serving as a lead-in to other courses offered by the Armenian Studies Program.
The class is also important to the Program because "It explains the identity of the Armenians through its history and culture," stated Menas Arisian, a student in the course. "It also strengthens one's perceptions, views, faith, morals, and values."
The course is important even for Armenian students who may already be aware of some aspects of Armenian culture.
Armenian Studies 10 relies on readings from various sources to capture the full perspective of the Armenian culture from ancient times until today. From the Christianization of Armenia in the fourth century, to the creation of the alphabet by St. Mesrop Mashtots in the fifth century, and the literary tradition that then ensued, there is a tapestry of rich historical culture shaped by faith, language, and literature that eventually resulted in the current day Armenian culture.
Understanding who the Armenians are and their background is useful whether or not you are Armenian.
Learning about the essential aspects of Armenian identity may better connect you with your own background, and that is why this class welcomes all students and is offered as a general education course at Fresno State.
Armenian Studies 10 is offered both in the Fall and Spring semesters.