Zhanna Bagdasarov
Editor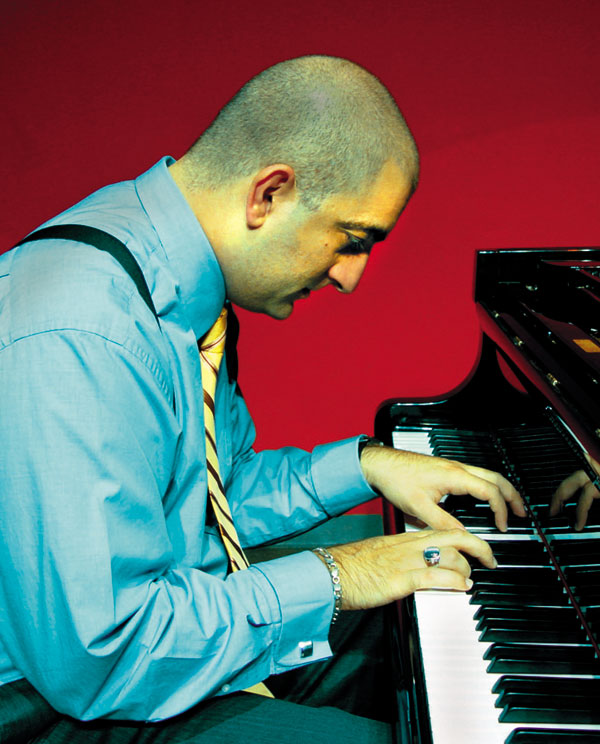 What do the words Jazz, Fresno Art Museum and Thursday have in common? Well, if you enjoy great music and are willing to put the mundane aspects of your life on hold once in a while, then a night of real Jazz music at the Fresno Art Museum is just what you need, every last Thursday of the month, except in November.
Armen Nalbandian, the man we have to thank for this monthly treat, is truly someone you must experience performing live. Nalbandian is linked to the Fresno Art Museum through his position as the Musical Director/Resident Artist. You might be wondering how a Jazz performer ended up on the museum's stage, especially since a venue such as this is not the most common place to indulge in genuine Jazz. The Jazz Program at the museum actually exists due to the exhaustive efforts of Nalbandian. His desire for a place to perform on a regular basis sparked this idea.
Nalbandian believes that the Museum is the perfect place to allow one's artistic side some much-deserved pampering. It is here that you are able to witness Nalbandian at his greatest on the piano. It doesn't take long to realize Nalbandian's dedication and seriousness when it comes to his music. It is truly admirable to see a musician committed to educating his listeners and exhibiting an undeniable passion for his work.
If that's not enough, Nalbandian is responsible for composing full concerts inspired by the work of the exhibiting artists; he incorporates elements of Jazz music and artworks that influenced him to create a unique expression of his individuality. According to Nalbandian, last season was very prolific for him; he produced over a hundred compositions for the art and that does not include the music he wrote with an Armenian motif. He composed over thirty compositions inspired by traditional Armenian music, which he hopes to perform in the near future.
During the month of September, Nalbandian and his fellow musicians held a charity concert to benefit the victims of Hurricane Katrina. This event raised almost $3,000 to help those in need due to the natural disaster. This is just one example of how one man's love for music can inspire an act of pure selflessness. His community efforts do not end here. Nalbandian makes it a point to involve himself in multicultural events; he performs in clinics, retirement communities and donates proceeds from his benefit concerts to support the American Cancer Federation and "Relay For Life."
On the evening of September 29, Nalbandian, along with his Quintet, began his second season of performing his original works at the Fresno Art Museum. The concert, cleverly called "Rhythms of Art," was the first in the series of entertaining evenings to come. That night, Nalbandian was joined on stage by Larry Honda on the woodwinds, Joe Lewis on the cornet, Kevin Hill on the bass, and Brian Hamada on the drums. The compositions he wrote and performed were influenced by the visual art of Junko Chodos, which Nalbandian was influenced by and thus wished to convey to his listeners. He definitely succeeded in producing an appreciative response from his audience and allowed every person in the concert hall the opportunity to interpret his compositions on different levels.
Armen Nalbandian's stage presence is another thing one should observe when he is in his element. His ease and refreshing sense of humor certainly helps the listener enter a comfort zone that allows one to truly enjoy the music. With all these aspects accounted for, one is able to forget about the daily hassles and disappointments and concentrate on the pleasurable experience.
When asked what he hopes to accomplish with the new, second season of concerts at the Fresno Art Museum, Nalbandian said, "I would like Jazz to play a larger role in our community and to give the community access to what we do." The upcoming "Rhythms of Art" concert will take place on October 27, 2005 and if the aforementioned commentary intrigued your artistic side, do come out and join Armen Nalbandian and his Quintet in their celebration of life!
For more information about concert dates go to www.armennalbandian.com.