Staff Report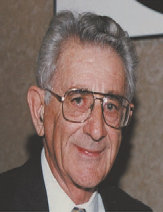 Richard Darmanian, a long-time educator and Armenian community activist died June 10, at the age of 81. Mr. Darmanian was a member of the Armenian Studies Program Advisory Board and was actively involved in the Armenian Studies Program.
He was a principal at Hoover and Edison high schools and for many years was director of the Armenian National Committee in Central California. He retired from Fresno Unified in 1988.
Mr. Darmanian was born in Sacramento and moved to Caruthers as a boy with his family. He worked in his family's vineyard and apricot orchard while attending Caruthers High School. Mr. Darmanian graduated from Caruthers High, then from Fresno State College, and earned a master's degree there in guidance and education. He married Armon Mamigonian in 1949. The Darmanians bought 20 acres in the Lone Star-Sunnyside area in 1959, built a home and farmed.
Mr. Darmanian was a past president of the Fresno Exchange Club, a member of theArmenian Town  Redevelopment Plan and served on the Holy Trinity Armenian Church board. He was a founding member of the Armenian Community School of Fresno, and served six years as its Board of Education chairman.  He also served as chairman of the Armenian Community Council of the San Joaquin Valley and on the April 24 Commemorative Committee.