Andrew Esguerra
Staff Writer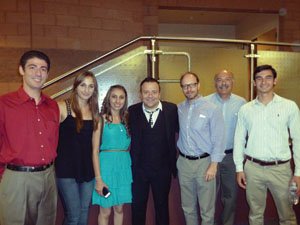 Friends and patrons of the Charlie Keyan Armenian Community School assembled at the Paul Shaghoian Performing Arts Center located on the Clovis North Educational Center campus for an evening of side-splitting comedy this past September 7th.
The Fresno audience was treated to a light mezza, a throwback performance to the fabulous '50s by none other than Martin "Elvis" Viramontes, and an evening of entertainment by international comedy and musical sensation Kevork Kapikyan. Better known by his stage name, Kev Orkian, the classically trained pianist delighted the audience with not only his musical ability, but also his Armenian-punchline-infused stand up comedy act.
Kev, an Armenian heralding from his native Great Britain, has made a name for himself entertaining audiences all around the globe, including performing in New York, Australia, Dubai and even for members of the British royal family.
This performance was Kev's first time in the Fresno area, and was also the first stop on his tour of the United States for the fall. Organizer Ron Mortanian, a local educator, garnered interest in inviting Kev to perform after hearing praise for the entertainer's comedic genius from attendees of an Armenian cruise where Kev had performed.
According to Mortanian, the comedian was pleased to make Fresno his first stop in order to benefit "Reach for the Stars," a program Mortanian created and developed where special education students practice their language arts skills by composing letters to celebrities inviting them to come to Fresno. Even though I volunteered at the show, I originally had not heard of Kev. But after attending the packed show, I would truly recommend that comedy lovers, Armenian and non-Armenian alike, should go see Kev perform.
The show was a mix of English puns and Armenian one-liners, much of based on Kev's own Armenian family, that made the crowd roar with laughter. Personally entertaining was the delayed chuckles of the non-Armenian speakers to get the punch-line translated in whispers from those that understood.
The show consisted of a medley of classical music—at one point Kev was playing music from Beethoven, Mozart, and from the play Carmen, all requests from the audience. Hye Sharzhoom editor Marine Vardanyan even had an "African love song" dedicated to her, another example of Kev's frequent audience participation, which she refers to as the "most special moment of the evening," with a laugh.
Kev's hilarious act is a show that is entertaining for all ages and cultures, but his best bits made light of growing up Armenian, which was a real treat for the attendees I spoke to after the event. After hearing people say that they would pay a hundred dollars to see him again, I would definitely say that the British comedian is a crowd pleaser, whom I too hope to see perform again.