Marine Vardanyan
Editor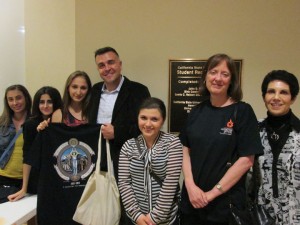 "Fresno to me is the epitome of the Armenian Diaspora experience in North America," said director and screenwriter Eric Nazarian during his visit to Fresno State for a discussion and film screening with the campus CineCulture Film Series, co-sponsored by the Armenian Studies Program.
These words resonate even more strongly this year as the Fresno Armenian Community rallies together to commemorate the centenary of the Armenian Genocide. A large audience of more than 275 welcomed Nazarian on Friday, March 27, as he spoke on the topic of "Celluloid Exiles: A Brief History of the Armenian Genocide and Diaspora on Film." Through a series of film clips, Nazarian gave an overview of how the Armenian people have been portrayed through cinema.
"The birth of cinema coincided with the genesis of the Armenian Genocide," stated Nazarian. Clips from films such as Ravished Armenia, Mayrig, Ararat, America America, and Bolis were selected to demonstrate how the Armenian culture and history have been represented from the early 20th century to current times.
One of the earliest films about the Genocide, Ravished Armenia, tells the story of Arshaluys "Aurora" Mardiganian, a survivor who witnessed the deaths of her family members, but miraculously managed to escape and move to New York. Produced in 1919, while the wounds from the atrocities were still fresh, Mardiganian was persuaded to travel to Hollywood and play herself in the film, after being given false hope that her brother was alive in Los Angeles.
"She survived the savages of the Genocide only to end up in the hands of the savages of Hollywood," said Nazarian. Yet, Ravished Armenia captured the horror of the Genocide and reflected the experience of the Armenian people. The theme of exile, deportation, and loss are continuous throughout the films, such as in the 1963 America America, financed by Warner Bros., which depicts the repression of the Greek and Armenian minorities, and in Mayrig, through the powerful visuals that convey the cruelty of the Ottoman perpetrators.
Nazarian concluded the interesting evening with a screening of his own short film, Bolis. Nazarian reiterated the struggle and search for justice through a story of an Armenian oud player who travels to Constantinople and attempts to find his grandfather's oud. Though he befriends a Turkish woman, his search for his grandfather's instrument remains unsuccessful.
Despite the impact the Armenian people have made on civilization, the Genocide remains and essential part of Armenian history. Yet, the "Armenian Question," in the Ottoman Empire, which eventually led to the Genocide and murder of 1.5 million Armenians, is questioned by Nazarian. "Why do they refer to it as the Armenian Question? For me, Armenians are an exclamation mark."
Indeed, despite the dark moment in their history, which has been embedded in all things related to Armenians, this small group of people continues to persevere, multiply, and, just like an exclamation mark, make their presence known.