Staff Report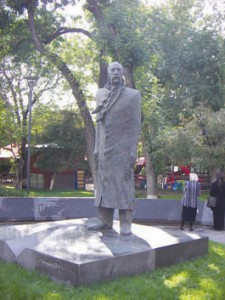 The CineCulture film series featured a new movie on William Saroyan on Friday, March 26, as part of its Spring 2010 schedule of screenings. Armenian Studies Program Coordinator Prof. Barlow Der Mugrdechian introduced "Saroyan's Will" to an audience composed of CineCulture class students and community members.
CineCulture instructor Mary Husain has included films on Armenians as a regular part of the course.
In 2008, Armenians in Fresno and in Armenia, as well as throughout the world, celebrated the 100th anniversary of the birth of William Saroyan. In Armenia, the Ministry of Culture commissioned the creation of a film to mark Saroyan's centenary. Director Grigor Harutyunyan came to Fresno in 2008 to visit the places in Fresno where Saroyan lived and worked and to interview those who knew him well. The result of Harutyunyan's and co-screenwriter Ruben Gevorgyants' efforts is "Saroyan's Will."
Dr. Dickran Kouymjian, former director of the Armenian Studies Program, was interviewed in the movie about Saroyan's will and how Saroyan's final wishes were executed. The William Saroyan Foundation was established to manage Saroyan's legacy.
Saroyan and Fresno are intimately tied to each other and the unique vision of this film brings new insight into that relationship, and also a different perspective of Saroyan himself. Footage from some of Saroyan's visits to Armenia, plus rare archival footage brought an added excitement to the film.
Following the screening, Prof. Der Mugrdechian fielded questions from the audience. Interesting questions were raised about Saroyan and his experiences.
CineCulture is a film series provided as a service to the Fresno State campus students, faculty, and staff, and community, at no charge. CineCulture is also offered as a three unit academic course in the Department of Mass Communication and Journalism.