Hakop Tataryan
Satff Writer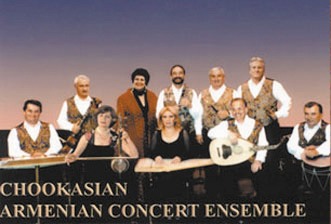 Sometimes events unfold in ways that leave you feeling regretful. On the evening of February 24, 2006 at approximately 6:45 PM, I asked my mother if she would like to accompany me to an Armenian concert being held in the Satellite Student Union at Fresno State. She replied "sure, when is it?" I told her "in 15 minutes." The concert was one of the most amazing musical and choreographically entertaining performances that I have attended-alone because my mother could not attend on such short notice.
University Student Union Productions brought the Chookasian Armenian Concert Ensemble to perform for Fresno State students and the Fresno community. The Chookasian Ensemble was joined by the Zvartnots Dance Ensemble from Los Angeles. The Chookasian Armenian Concert Ensemble consists of director John Chookasian, who plays a variety of instruments but that night played the clarinet, Barbara Chookasian who is the principle vocalist, and a medley of fine professionals who have graduated from conservatories in Armenia and some from the United States.
That evening the crowd was dazzled with captivating performances by Vergine Alimian (Kanun), Henrik Avoyan (Dahol), Peter Dorian (Oud), Vladimir Grigorian (Kemenche), Andranik Mouradian (Keyboards), Hayk Nalbandyan (Dumbeg & Daff), Sarkis Petrosyan (Santur), Surik Saz (Tarra), Garen Sarkissian (Shivi), Albert Vardanyan (Duduk & Zurna) and of course the Chookasians.
The group collaborated on twenty folkloric songs from Eastern as well as Western Armenia. Within each song, there were "solos" embedded from the various musicians. Each one was more captivating than the next. Most of these instruments I had never even heard of, but my senses were telling me that I was witnessing something absolutely amazing. Each one of the artists could have held their own concert, but as good as they were individually, they were much better together. Barbara Chookasian is a wonderful performer. Aside from her powerful yet lovely voice, she was also a narrator throughout the show, telling the audience a bit of history regarding the artists and some of the songs they played.
I really liked: "Msho Akhchig," "Hye Dughakner," and "Gha-pama." They performed over twenty pieces and I heard most of these songs for the first time, but they seemed so very familiar, I thought that I had been listening to them all my life. The music was so beautiful and so "Armenian" that I really wanted to share with everyone I knew. I kept thinking to myself about all of the people that I knew, who were missing out, including my mother.
It is no wonder that in the year 2000, the President of Armenia, Robert Kocharian, invited the Chookasians to Armenia for a concert tour. After the completion of the tour, the President awarded them the distinguished National Gold Medal Award of Armenia. The medal was in recognition of the Ensemble's cultural preservation and vitality.
Opening and closing the musical performances was the Zvartnots Armenian Folk Dance Ensemble. Vartan and Armine Aghajanyan spearhead the group. The dancers were made up mostly of teenagers, and they were absolutely amazing. They performed early line dances from various regions of Armenia as well as modern ones. The boys were stern and vociferous and the girls were absolutely graceful. Armine Aghajanyan's solo performance in "White Dove," was one of the most elegant pieces of dance or any art I have ever witnessed. I don't know if it was the subtle hand movements or the gliding across the stage that made it so, but it was just wonderful.
The three-hour show felt like it was about an hour long. The entire drive home I was thinking what am I going to tell my mommy? Surely she will ask how the concert was. Well she did ask, and I regretfully yet proudly had to reply, "It was one of the most original and memorable concerts I have been to and I am so sorry for not taking you along. If you want to disown me as a son I will understand." My mom is a lovely lady, she smiled and said, "next time." Lucky for me PBS taped the entire program and will be airing the concert sometime in June.