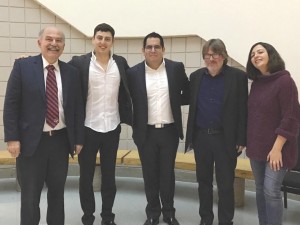 Diana Gasparyan
Staff Writer
The Concert Hall at Fresno State was graced by the performance of master cellist Narek Hakhnazaryan on Sunday, January 29. His skill and artistry left the audience in admiration as he played beautiful pieces by composers Tchaikovsky, Shostakovich, and Harutyunyan.
Since winning the Gold Medal in Cello at the 2011 Tchaikovsky International Competition in Moscow, Hakhnazaryan has gained critical acclaim and performed with some of the most prestigious orchestras around the world. He is recognized internationally as one of the finest cellists of his generation.
Julio Elizalde, an accom-plished artist who has enjoyed a versatile career, accompanied Hakhnazaryan on the piano. The afternoon program included works by DeBussy, Massenet, and Paganini.
The Armenian Studies Program in cooperation with Fresno State's Keyboard Concert Series, under the direction of Prof. Andreas Werz, made the concert possible. "We have had a very productive relationship with the Keyboard Concert Series, which has been beneficial to our community, because there is no other venue like this in Fresno," said Prof. Barlow Der Mugrdechian, Coordinator of the Armenian Studies Program. "We bring the top pianists, cellists, and musicians on a regular basis, and we have had a positive reaction from not only the Armenian community but also from others who have come to listen." This connection is what gives the Fresno community the opportunity to enjoy world-class music and performances. The Thomas A. Koouyumjian Family Foundation was a major sponsor of the Concert.
When Hakhnazaryan per-formed, the mood of the entire hall changed, with the audience becoming entranced by his spirit and passionate playing. "I hear wonderful cellists every day, but I had never experienced beauty to this degree before. When he played John Williams' 'Theme from Schindler's List,' we all started crying," said University High School student Liana Gasparyan. Everyone left the auditorium impressed and satisfied.
Though the Yerevan-born musician has performed in venues such as the Carnegie Hall in New York and the Salle Pleyel in Paris, Hakhnazaryan said that he enjoyed performing at Fresno State. "The audience was very warm and friendly and I was happy to see so many Armenians in the audience. It created a great atmosphere."
Hakhnazaryan performed with tenderness and emotion, which he said was influenced by his Armenian heritage. "We have such a tragic history, so playing emotional music comes more naturally to me. I feel very fortunate to do what I love and to share it with the world."
A musician whom The Washington Post called, "a seasoned phenomenon," and the Strad described as "dazzlingly brilliant," captivated the hearts of every audience member.
Narek Hakhnazaryan's per-formance was one of the best ever held in Fresno.