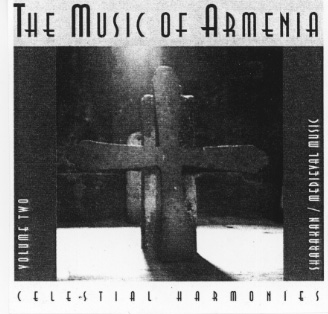 By Barlow Der Mugrdechian
The world of music is being enriched by the release of a new CD series called The Music of Armenia, produced and recorded by David and Kay Parsons of Celestial Harmonies. Volume Two: Sharakan/Medieval Music is part of a projected six-volume series on one of the most ancient musical traditions, the Armenian. Volume One, Sacred Choral Music, was released last year.
The Sharakan Early Music Ensemble was founded in 1991 to perform Armenian music of the Middle Ages, starting from the fifth century. Directed by Grigor Danielian (Daniel Erazhist) this CD brings to life some of the most popular of the Church sharakans. Daniel Erazhist was the name of an outstanding musical figure of the eleventh century.
Armenian artists such as Anna Mailian(vocalist), Ara Avanian, (vocalist), Margarit Sarkissian (piano), Hovhannes Darbinian (tar) bring their considerable talents to the CD.
A well-researched and informative booklet accompanies the CD and illuminates the inspiration behind the creativity in the sharakans. The booket carefully traces the history of three forms of Armenian music: sharakan, tagh, and gandz.
The sharakan is a highly developed form of sacred chant that had its origins in the time of St. Gregory the Illuminator in the fourth century. The sharakans reflect specific Armenian techniques and forms. They are still sung in the Armenian Church during the specific Church hours (offices).
A second form of musical sacred song is the tagh which were based on popular poetic texts. They have considerable folk roots in the music and lyrics.
The third chant form is the gandz, which are highly embellished chants, sung especially on special holidays.
The famed Armenian composer and musicologist of the late nineteenth and early twentieth centuries, Komitas Vartabed, was instrumental in harmonizing the Armenian sharakan and Armenian music in general and his influence is felt throughout the CD.
Among the twenty-two songs in this volume are Chinar es (a popular folk song), the tenth century tagh Havoun, Havoun by Grigor Narekatsi, Ov Yeranelid (a seventh century sharakan by Anania Shirakatsi), and Voghormia ints Astvadz (fifth-century sharakan by Mesrop Mashtots).
The music is compelling and powerful. This is a CD that will be enjoyed by everyone.