Svetlana Bagdasarov
Staff Writer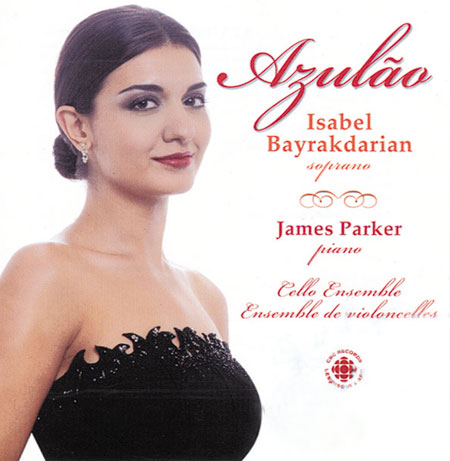 Charismatic, professional, strikingly radiant, captivating, and simply irresistible are just a few of the words that come to mind when thinking about the talented Armenian-Canadian lyric soprano Isabel Bayrakdarian.
Not only is she well known and praised for her operatic career, but she also manages to find time for numerous recitals, vibrant concerts, and special surprises for her fans. Although Bayrakdarian is said to be mesmerizing on stage, her recordings are just as magical as her live performances. Capturing the same essence of her angelic yet powerful voice is an easy task, since her musicality is almost flawless whether in front of a live audience or on a disc.
After the overwhelming success of her first album, "Joyous Light," the young soprano stepped away from her Armenian roots and recorded something completely different. It turned out that her venture into new territory was a wonderful idea because her second album, "Azulao," received just as much, if not more honor than her previous album. For this CD, Bayrakdarian went in a whole new direction. To broaden her musical horizons, she decided to give her listeners a taste of the exotic, sultry, and multi-dimensional sounds of Spain, Brazil, and Argentina.
"Azulao," which means bluebird, is a superlative album. Azulao proves that Bayrakdarian is an international star capable of capturing the dazzling exuberance of Latin America. It is extremely rare to come across an artist who sings with such a passion that her listeners wonder how a non-native Spaniard managed to absorb and exude the genuine artistry of a foreign land though her unique vocals.
There is truly something for everyone on this album. Whether a piercing ballad, a somber lullaby, or a vivacious melody intrigues you, each song conveys a heartfelt story. No matter what mood you are in, every track on this disc is sure to please. Also, the orchestra adds definition to the already sublime creation. This album is worthy of nothing less than five stars.
As a reward for her enormous efforts, Bayrakdarian became the recipient of the 2004 Juno Award for Best Classical Album (vocal). This was an indescribable honor, since this award is basically a Canadian Grammy. She definitely deserved this award. She has honed her musical abilities and has reached star status. Those who have not yet discovered this jewel should purchase her recordings as soon as possible. "Azulao" as well as her other CD's are worth every penny. There is no doubt that Bayrakdarian will continue to shine for many years to come. Many admire her work, especially the Armenian community.
On behalf of the Hye Sharzhoom, we would like to wish Isabel Bayrakdarian nothing but the best in her future endeavors and aspirations.
For more information, please visit www.bayrakdarian.com.