Armen Postoyan
Staff Writer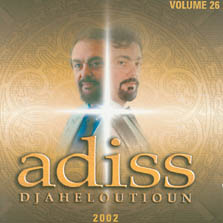 Adiss Harmandian's Djahelootioun (Youth) album has been one of the latest to hit the Armenian music market. For those of you who don't know or have never heard the music of Adiss Harmandian, you are missing out tremendously, because he has one of the strongest and nicest voices in all of the Armenian music scene.
Adiss has been singing since the 1970's and has come out with many albums, such as Kaghdni Ser (Secret Love) and Taline Anoushig (Sweet Taline). His music shows to him and to his followers that his genre of music is still alive and will never die even after he is long gone. You also see this with his latest works.
The album Djahelootioun (2002), won numerous awards during the Armenian Music Awards, including the "Best Album" Award. In my opinion it has lived up to all the expectations people had when he released this album. Among my favorite songs are Los Angeles- Paris which has a French-style beat that many of the Armenians will appreciate and Srdis Panalin (The Key to My Heart) another one of his hit songs, and once you hear this song, you will want to hear it over and over again. At the same time he has many great love songs such as Siro Gamourche (The Bridge of Love), Miasin Amen Degh (Together Everywhere) that will just put you in the mood.
This album to me is one of his greatest of all time and at the same time it shows to the older generation that Adiss is still one of those great voices that they heard in the 1970's growing up to many of his songs.