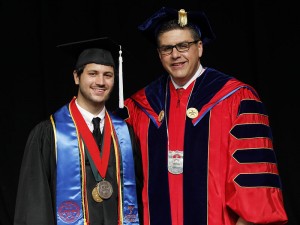 Aramayis Orkusyan
Editor
As the Spring 2015 graduation ceremony approached its close, excitement built in the Save Mart Center as the crowd anxiously awaited the announcement of the President's Medalists. From a group of nine outstanding undergraduate students, Joseph Bohigian was selected by President Castro as the recipient of the University's highest academic honor.
"I had a very tough choice," explained President Castro. "[But] I ultimately selected Joseph 'Joey' Bohigian because of his scholarly achievements, his success as a composer while still a student, and his community service."
A Smittcamp Honors Scholar and a member of the Arts and Humanities Honors Program, Joseph Bohigian graduated with a perfect 4.0 GPA, receiving a bachelor's degree in Music Composition and a minor in Armenian Studies. His interest in music began at an early age. Bohigian began playing the piano at the age of five when his parents decided to purchase a piano. Within a few years, he added percussion instruments to his skill set, and by his high school years, Bohigian was already composing his own music.
For Bohigian, pursuing a degree in music seemed only natural. "I couldn't see myself doing anything else as a career," he stated. Although he enjoyed performing music and was a member of Fresno State's Symphony Orchestra, Percussion Ensemble, and New Music Ensemble, Bohigian's main focus was composition. "While I still perform on both piano and percussion," explained Bohigian, "composition has become my main musical outlet because it offers so much in the way of expressing oneself creatively."
This outlet has carried Bohigian around the globe and his original compositions have been performed in Armenia, Germany, Portugal, Brazil, and across the United States.
Perhaps more significantly, Bohigian's musical pursuit has carried him to his ancestral homeland and has paved a path of deeper connection with his Armenian roots. In the summer of 2012, Bohigian studied in Armenia as part of the first cohort of the AGBU Musical Armenia Program. It was then that Bohigian composed his first piece directly influenced by Armenian music and heritage, Dzirani Dzar (The Apricot Tree).
His second Armenian piece, In the Shadow of Ararat, was written in commemoration of the 100th anniversary of the Armenian Genocide and was performed in both Fresno and Los Angeles. "In the Shadow of Ararat was a very personal piece for me as a descendant of Genocide survivors," reflected Bohigian. "I began the process of writing it by researching the Genocide and my own family's connection to it. I also studied Armenian sacred and folk music and took elements present in those which I could use in my own music, retaining my own personal style while still having a strong connection to Armenian music."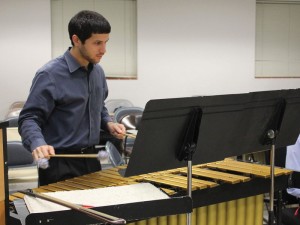 Among the many fans of Bohigian's music, President Castro commented, "I was particularly moved by his original piece of music commemorating the anniversary of the Armenian Genocide."
Currently, Bohigian is studying in the Masters Program in Music Composition at Stony Brook University in New York and plans on remaining at Stony Brook to continue on to a PhD. From there, "Whatever I end up doing," Bohigian stated, "my goal is to continue writing and playing music."
Joseph Bohigian's accomplishments are astonishing to say the least. The level of his achievements is best captured by the following statement from President Castro: "Dean José Díaz wrote in his recommendation that Joseph is 'poised to join the ranks of an elite group of contemporary American composers whose music reflects the complexities of the world in which we live.' I agree and I can't think of a better student to represent Fresno State as the President's Medalist."
We are proud to have Joseph Bohigian representing not only Fresno State, but the Armenian community and the Armenian heritage as well.