Staff Report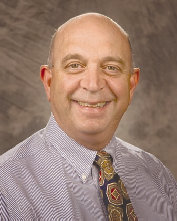 Congratulations to Bill Erysian, who received his doctorate degree in Economics from the State Agrarian University (SAUA) of Armenia in November 2008. Erysian's accomplishments in the branches of transitional economies and agrarian reform are the result of more than a decade of research and participation in numerous agricultural development initiatives in the Central Caucasus, particularly in Armenia.
Erysian began working in Armenia in 1996 as an advisor to the USDA Marketing Assistance Project, a foreign aid program originally designed to provide technical and financial support to the country's emerging agriculture sector following independence from the former Soviet Union. That program grew into the largest and longest running agribusiness development project ever managed by the USDA.
Erysian has also been a frequent international consultant and project director for the U. S. Agency for International Development (USAID), the World Bank, USDA Foreign Agricultural Service, ACDI/VOCA and other international non-governmental organizations in the areas of agribusiness marketing, small/medium enterprise management and sustainable development. He has managed twelve international development projects in five different countries over the past thirteen years.
Following its declaration of independence from the Soviet Union in 1991, theRepublic of Armenia launched one of the most aggressive land reform programs ever attempted by any of the former Soviet states. Within a few months, the entire structure of the Soviet style "collective" farms would be dismantled and more than 320,000 new private farms would be created. The government began a systematic program to privatize livestock, inputs, farm machinery and most of its processing sectors. In addition, the Armenian government would grant each family anywhere from 0.5 to 5.0 hectares of land as part of the privatization effort.
A free-market economy was born with an immediate dependence on this emerging agriculture sector, which would soon be responsible for nearly 40% of the country's national income. Armenia's integrated system of a planned economy, one that was traditionally controlled by Moscow, dissolved almost immediately and with it, the country's once prosperous agrifood economy.  Now that calculated production quantities and exports markets were gone, the great factories that once helped drive this centrally-planned economy quickly fell silent. Most production facilities in the country were subsequently stripped of their valuable metal and eventually sold off.
Thousands of jobs were lost in the privatization process as agricultural output fell dramatically. Independence, land privatization, and a blockade from the neighboring countries of Turkey and Azerbaijan would quickly challenge Armenia's ability to adjust to an agricultural-based, free-market economy without the help of any historical road map.
In his dissertation, Erysian provides an exhaustive account of Armenia's privatization process and the challenges the country faced in its transition to an economy based on market forces.  Specifically, he explores the role of agriculture in this process and the gradual maturity of the agrarian sector of Armenia over the past 15 years.
By targeting the research, analysis and assessment of the post-reform condition of Armenia's agrifood sector, his ultimate purpose is to promote the stable development of Armenian agriculture and explain how it continues to affect the country's economy.  He also sets forth a calculated process of what steps the Armenian government has already taken and should continue to implement, in order to nurture the proper development of a free-market economy, a reduction of poverty, an increase in manufacturing and consistent growth in the private sector.  A strong case is made for agriculture to assume a critical role in the future of the country's economic development.
Dr. Erysian currently serves as Coordinator of Grants and International Projects for the College of Agricultural Sciences and Technology at Fresno State. He is the founder and current Director of Resource Development for the five-campus California State University Consortium for International Development. He also serves as Executive Director for the non-profit Armenian Agribusiness Education Fund. He holds an undergraduate degree in journalism from Fresno State (1980) and an MSc in International and Comparative Politics from the London School of Economics and Political Science. He can be reached at bille@csufresno.edu.