Svetlana Bagdasarov
Staff Writer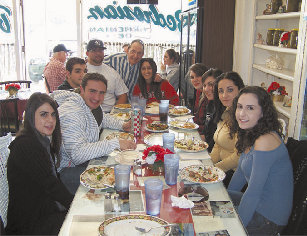 On Saturday, February 9, I had the pleasure of dining at Bedrosian's Armenian Deli in Fresno. I was enrolled in a weekend course on the Armenian Church offered by the Armenian Studies Program at California State University, Fresno. After a morning of lectures and a visit to an Armenian church, Professor Barlow Der Mugrdechian suggested that the entire class visit Bedrosian's Armenian Deli for lunch – so without hesitation, the group decided to give the restaurant a chance.
PHOTO: Students from the Armenian Curch gathered at Johnnie Bedrosian's Armenian Deli for lunch. Clockwise around the tabe from the left: Mary Madoyan, Arman Kalamkarian, Sarkis Manavazian, Van Khatchadourian, owner Johnnie Bedrosian, Gina Jelladian, Pateel Makhitarian, Jennifer Torosian, Thagik Boyadjian, and Svetlana Bagdasarov.
As I walked in, I could not believe that this was my first time even hearing about this absolutely adorable place. The décor is memorable. The restaurant is almost completely covered with photographs of Bedrosian's family and friends. The owner, Johnnie Bedrosian, dedicated the restaurant to his beloved late wife, Virginia, and it is obvious that her memory is kept alive through family clippings on every table and wall. In addition to the photographs, decorative flowers and memorabilia, collected over the years, cover the tables. Also, if you enjoy dining with traditional and modern Armenian music playing in the background, then this restaurant is ideal.
As we were looking at the photos, we were handed our menus. Before even glancing at the food itself, I was delighted to see that every dish was named after Bedrosian's family and friends. I have been to many Armenian restaurants over the years and can honestly say that I have never seen such tradition and closeness before. The menu ranged from sandwiches, such as "Sister Neva's Lahmajoon Sandwich," to lunch plates such as "Charlie's Sampler Plate," and salads such as "Harout (Alla's son) Chicken Salad." Alla Sargsyan is the restaurant's head cook. After several minutes of thought, I decided to try the "Vartan Torosian Special Warm Lulu Kabob – Hye Style Salad." Personally I enjoyed my meal very much, and by the looks and comments from my classmates, everyone was more than pleased with the taste of their meal.
All in all, the restaurant is small but charming and the service is exceedingly friendly. The coziness of the place and the delicious food will bring you back for more. One thing to keep in mind is that if you are pressed for time, than taking something to go may be wise, because quite a bit of patience is needed when dining in at the restaurant. Armenian grocery items such a bulghur, rice, olives, cheese are also for sale at the restaurant.
Bedrosian's Armenian Deli is open Monday through Saturday from 8:00 a.m. to 6 p.m. and Fridays it remains open until 7:30 p.m. (call to make reservations after 6:00 p.m.). The Deli is located at 3051 E. Ashlan, in the First and Ashlan Shopping Center, and they offer catering. For more information or for reservations please call, (559) 222-1626. The restaurant's slogan reads "All of our food is like mom used to make!" and let me tell you, the saying lives up to its promise.