Staff Report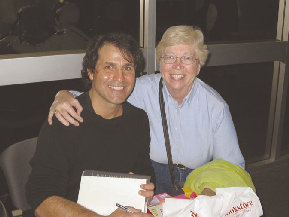 Author Aris Janigian presented his new book, Riverbig: A Novel, at 7:30PM on Wednesday, April 1, as part of the Spring Lecture Series of the Armenian Studies Program.
Armenian Studies Program Director Barlow Der Mugrdechian introduced Janigian, who read several excerpts from the book, capturing the spirit and mood of his novel. His intense prose and vivid imagination combine to make a fascinating book.
This work is the follow-up to Bloodvine, Janigian's acclaimed first novel, and continues the tale of Andy Demerjian. Having finished college, returned to farming, and undergone a chain of disasters, he is now landless. Desperate to support his wife and two sons, Demerjian embarks on a series of ventures that put his integrity and mettle to the test.
The novel brings an unsettling look at the inner workings of one family. Set in California's Central Valley, and ranging in time from World War II to the drug wars of the 1960s, Riverbig explores both emotional terrain and physical topography as it transports the reader through the valley and into the rhythms of rural life.
The book is based upon a tragic and real episode in Janigian's father's life. He wrote this book because "I loved my father, and wanted to tell the story that he never got around to telling for himself."
A second-generation Armenian American, Aris Janigian was born in Fresno, California, and currently lives in Los Angeles with his family. He returns to the Fresno area annually to work as a grape packer and shipper. He is the author of Bloodvine and the coauthor, with April Greiman, of Something from Nothing.
Riverbig was published in 2008 by Heyday Books and is available at local bookstores or online at www.heydaybooks.com.