Evelyn Demirchian
Staff Writer
Award winning author, journalist, and Fresno State alumnus Mark Arax returned this academic year to fill a position named after his former mentor, the Roger Tatarian Chair in the Department of Mass Communications and Journalism. Arax, who also graduated from Columbia University, forged a name for himself as a top investigative reporter for the Los Angeles Times, before leaving the newspaper after editors tried to censor an article he wrote about the Armenian Genocide.
Arax has written three well-received books: In My Father's Name, a memoir where he returned to the Central Valley to investigate the 1972 murder of his father; King of California, which detailed the rise of cotton entrepreneur James G. Boswell; and most recently West of the West, a collection of short stories that reinterprets the portrait of modern California.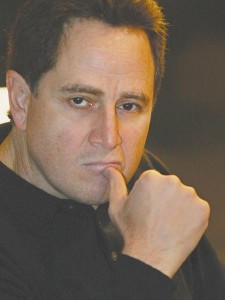 How does it feel coming back to Fresno State?
It's pretty rare in life when you can come full circle; when you start someplace and 30 years later you come back to that place. So, here's a man [Tatarian] who, except for my father and grandfather, shaped me the most…and sent me on this kind of journey. And then I come back and sit however temporarily in that Chair, it's one of those prodigal son come home kind of things. It feels right, it feels good.
What has been your involvement with the Armenian community?
When you're a writer, a journalist, you have to be an outsider. Even to your culture in some ways. Your loyalty is only to stay true to the story you're trying to tell. You can't be a propagandist. My training required me to do a juggle. I love my Armenian roots, they gave me so much of my sensibilities, but I had to put them aside. When you are a writer the Armenian experience can suffocate you, the Armenian narrative can suffocate you. A writer ultimately has to be exiled. Yet, with the books I've written, it's honoring my roots and finding so much of my storytelling having to do with Armenians that's been that connection.
What can you say about your latest book, West of the West?
I can't say that my writing is consciously Armenian or that it's consciously about Armenians. Yet it is the Armenian spirit and the Armenian stories that you seek to tell. I'm telling the story of California, the journeys that make this place. All roads that lead to California are long roads.
Do you feel any regrets about the LA Times controversy?
I had so assiduously, so diligently, tried to keep a distance, and here I do this story and all of a sudden, I'm an Armenian. We haven't learned how to tell our story. We don't encourage our kids to become writers and filmmakers. We keep waiting for Atom Egoyan to do Musa Dagh, and why should he? We haven't been very effective at telling our story to the world, but we're getting better at it.
What social issues have been closest to your heart?
The plight of the Palestinians and the corruption of global government. The Ponzi scheme and California sprawl. I'm passionate about corruption issues.
How do you reflect on your time now coming back to Fresno State?
It's again that idea of coming full circle. I was a troublemaker back then and I'm still a troublemaker. I've returned to the scene of the crime.
Arax is currently teaching a writing course, freelancing for the New York Times, working as a full time policy researcher for the California State Senate, and working on his next book.