Staff Report
An interview with Fresno State Armenian basketball player, Rouben Vesmadian. When Jerry Tarkanian returned to Fresno State as head basketball coach in 1995, the large Armenian Community of Fresno fell in love with basketball. Since Tarkanian's arrival, the Fresno State program has become recognized as one of the best in the nation and Armenians stand proud whenever the Coach's name is mentioned. For the past several years, Tarkanian always talked about wanting to add an Armenian player to his ball club. In the 2001-2002 season it finally happened. Rouben Vesmadian joined the team in the Fall of 2001.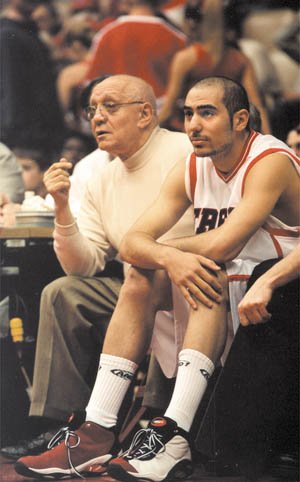 Vesmadian, 19, an Armenian from Sydney, Australia is a freshman on the Fresno State Basketball team. As a young kid in high school it was his dream to play college basketball. When he heard Coach Tarkanian wanted him to play in Fresno, Rouben was ecstatic. Since his arrival at Fresno State Rouben has developed a great relationship with Tarkanian and with his teammates. He has been accepted well within the club and within the community. Since he is originally from Australia, his teammates have given him the nickname, "The Thunder From Down Under." Rouben plans to obtain his Bachelor of Arts in Philosophy as well as a Minor in Armenian Studies.
Hye Sharzoom interviewed Vesmadian during an exciting time in his life, while playing basketball for Fresno State.
Hye Sharzoom: Welcome to Fresno Rouben. You are so far away from home-how does it feel for an Armenian to be playing college basketball for an Armenian Coach in largely Armenian populated area?
Vesmadian: It's really an honor because I am very happy to be representing the Armenian community and very fortunate to be playing for Coach Tarkanian who is just the best at what he does.
Hye Sharzoom: What made you want to come to Fresno State? How did you end up here?
Vesmadian: It was my dream to play college basketball ever since I was a freshman in high school. As I got older and learned more about my ancestry and heritage I felt it was something I should never forget no matter what my endeavors. So when the opportunity arose for me to be able to establish my college career at such a big basketball school and with such a great Coach I thought my prayers had been answered. Coincidently, Coach happens to be Armenian as well, which played a large part in my decision to come to Fresno. The large Armenian community, which has always backed me, was also a reason come to Fresno.
How I ended up here all the way from Sydney, Australia is a good question. First, I'd like to establish that it is very difficult for any basketball player from Australia to get exposure in the United States so I was very fortunate that things went my way. In 1999 I had played at a basketball exposure camp in New Jersey where I was selected into the All-Star squad. I was 16 at the time and only a junior in high school. Through this camp I was only being recruited by small schools on the east coast as nobody else knew about me. When I returned to Australia and graduated from high school I had to make a choice of which school I wanted to attend and play for. Fortunately, assistant coach, Danny Tarkanian, had seen video footage of me and I was able to get accepted at Fresno State. From there on my journey began.
Hye Sharzoom: How has the Armenian community responded since your arrival?
Vesmadian: The Armenian community is great. They are very supportive and very proud. I enjoy being a part of the Armenian community. I get approached by a lot of Armenians asking me all sorts of questions and just wanting to get to know me.

Hye Sharzoom: What are your future goals with Fresno State and upon graduation?
Vesmadian: My future goals are to keep working hard everyday in school and in practice. I plan on being a good role model for young Armenians around the world. I am in a great environment and I am certain I will succeed if I just keep working hard. Upon graduating I plan to obtain a degree in Philosophy and just as importantly in Armenian Studies. I take my Armenian courses at Fresno State very seriously as it is important to my family and me. In regards to my basketball career, who knows where it will take me after graduation.