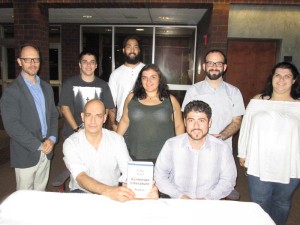 David Safrazian
Staff Writer
"Fifty Years of Armenian Literature in France: A Zenith of Diasporan Writing" was the first presentation in the Armenian Studies Program Fall Lecture Series. Writer, filmmaker, and translator Christopher Atamian visited Fresno State on Friday, September 8 to speak on a theme that is important and meaningful to Armenian history, culture, and literature.
Atamian translated Krikor Beledian's "Fifty Years of Armenian Literature in France: 1922-1972," which covers the lives and works of forty Armenian writers and Genocide survivors, from French to English.
The book was published as volume 6 of the Armenian Series of the The Press at California State University, Fresno. Prof. Barlow Der Mugrdechian was the editor of this English translation.
Poet and literary critic Beledian, who was born in Beirut has published over thirty works, most of which are in Western Armenian.
According to Atamian, the Armenian literature produced in France in this period was experimental and groundbreaking. Writers such as Zabelle Yessayan and Vahan Tekeyan, survivors of the Armenian Genocide, had moved to Paris but still wrote in Armenian.
In his book, Beledian gave an overview of the major French-Armenian writers and why their works are important to Diasporan Armenian literature. Atamian stated that translating works from other languages into English broadens the reader's horizons. He decided to translate this book because it is an important part of the literary world and not many know Armenian.
The "Menk" literary movement was formed in France in the 1920's. Atamian spoke about the significance of the "Menk Movement" and the poets and novelists who represented it. The writers struggled with their own identity, as Armenians, and as citizens of a new host country.
The writers came as refugees where they absorbed the latest theoretical and literary movements, which then were reflected in their own literary work.
In his lecture Atamian discussed Zabelle Yessayan (1878-1943), a leading feminist in the Ottoman Empire, who was sent by the Armenian Patriarch to report on the Adana massacres in 1909.
Atamian concluded his presentation by reading passages from The Bois de Vicennes, a book by Nigoghos Sarafian, an Armenian writer and leader of the "Menk Movement."
Atamian would like more people to enter the translation field and proposed the creation of a "translation institute." Atamian would also like to see a rebirth of Western Armenian as a language of not only communication, but also as a literary language.
"Fifty Years of Armenian Literature in France" is an important work that has been translated from French into English and Atamian's presentation gave valuable insight into the work.