Staff Report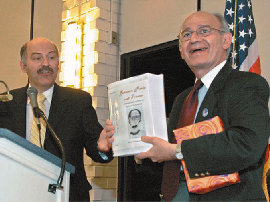 "An Evening with Dr. Dickran Kouymjian" was celebrated on Saturday, April 5, with more than 200 community members, students, faculty, and staff in attendance at the Residence Dining Hall on the Fresno State campus. They had come to be part of the Armenian Studies Program Twentieth Annual Banquet, this year marking Dr. Kouymjian's thirty-first year as a Professor at Fresno State and his twentieth year as Haig and Isabel Berberian Chair of Armenian Studies.
The evening brought together former students and friends to reminisce about Prof. Kouymjian's distinguished career as a teacher and scholar. A display of dozens of his publications were on view for guests as they entered the hall, who had the opportunity to greet Dr. Kouymjian before enjoying a delicious table filled with samplings of Armenian hors d'oeuvres.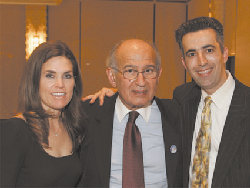 Paul Chaderjian, West Coast editor of the Armenian Reporter newspaper, served as Master of Ceremonies for the evening. A former student of Dr. Kouymjian's and a family friend, Chaderjian introduced many of the family and friends who had gathered to honor Dr. Kouymjian.
Fresno State President Dr. John Welty greeted guests and then praised Dr. Kouymjian's contributions to the University and his outreach to the Armenian community, building the Program to its current national and international prominence. "Tonight is a special night in the history of the University," said Dr. Welty. "Dr. Kouymjian is one of those people who is admired for the expectations he sets for students and for others… He is one of the university's intellectual giants."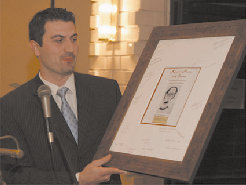 Dr. Welty thanked the audience for supporting the Armenian Studies Program, and said that it would be important to continue the success of the Program. "Dr. Kouymjian laid the foundation for the Program, challenging students to learn about the Armenian culture, and as the University will soon celebrate its centennial, it will be important to continue the support for the Program," concluded Dr. Welty.
Speaking on behalf of the Armenian community, with which Dr. Kouymjian had built close ties, was Dr. Arnold Gazarian, who together with his wife Dianne, were the founding donors of the Haig and Isabel Berberian Chair of Armenian Studies (named in honor of Dianne's parents) in 1988. Dr. Gazarian discussed the efforts that went into the establishment of the Endowed Chair, and praised Dr. Kouymjian's enthusiasm. He and his wife were impressed by the transformation that had taken place in the Program in the early years, leading to its recognition as the preeminent undergraduate Armenian Studies Program in the United States. "It is a result of Dr. Kouymjian's leadership and vision that today the Armenian Studies Program offers a wide variety of classes in Armenian, offers scholarships to students enrolled in Armenian Studies, and continues its leading academic role…
Under his tenure, the Kazan Visiting Professorship was established, conferences have been organized, and the Lecture Series was developed. It is due to Prof. Kouymjian that the Program has flourished… There is no way to adequately thank you for your contributions, so let me simply say, Dickran and Angèle, thank you for sharing over three decades of your lives with us. This Program will remain a testament to your vision, leadership, and hard work. The University and the Armenian community are indebted to you for your great service. We wish you good health and much happiness in the next chapters of your life."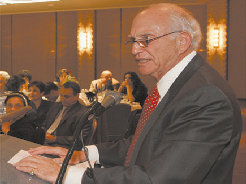 Poet Jimi Baloian wrote two original poems for the occasion, "To Uncle Willy in Heaven" dedicated to William Saroyan and "Journey" dedicated to Dr. Kouymjian. Baloian is a long-time friend of the family, and his poems were read by Barlow Der Mugrdechian of the Armenian Studies Program.
Arakel Arisian, a 2001 Fresno State graduate and President's medalist, succinctly summed up Dr. Kouymjian's impact as a teacher on generations of students. Arisian spoke on behalf of the Armenian Alumni and Friends and the thousands of Dr. Kouymjian's students who had the opportunity to take his classes. Dr. Kouymjian's ability to engage students was one of the major reasons that Arisian chose to study at Fresno State. "Throughout his career he has made a balance between scholarship and teaching," said Arisian. "Dr. Kouymjian is one of the most knowledgeable and intelligent professors that I have had. He respected and treated his students well… He was a mentor to many — giving advice and guidance to those who listened," stated Arisian, "On behalf of your former students, I would like to thank you for all that you have done. Thank you for being our professor, for being a mentor, and most importantly for being our friend."
Professor Der Mugrdechian then paid his own tribute to Dr. Kouymjian, who he had first met thirty years earlier as a student. Der Mugrdechian has been a colleague of Dr. Kouymjian over the past twenty-three years in the Armenian Studies Program. He spoke of Dr. Kouymjian's efforts in developing the Program and his leadership.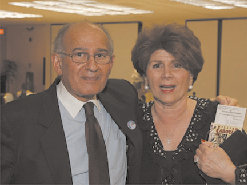 Der Mugrdechian then presented Dr. Kouymjian with a newly published work, Between Paris and Fresno: Armenian Studies in Honor of Dickran Kouymjian, which Der Mugrdechian had edited. Some forty-six scholars contributed articles to the Festschrift, dedicated to Prof. Kouymjian's distinguished career in Armenian Studies. The articles are on topics that have been the focus of Dr. Kouymjian's research — history, art, Genocide, William Saroyan.
A special video presentation, prepared by Barlow Der Mugrdechian, Ali Peyvandi, and Drew Tudman, gave a visual and musical look of Dr. Kouymjian's tenure at Fresno State, and his interaction with dignitaries and guests, as well as with the community and students. The photographs brought back memories for many in the audience.  Following the video, Paul Chaderjian introduced Dr. Kouymjian, who gave his farewell speech. He recounted many of the lasting friendships that he had made over the years, and spoke about those people who had made a special impact in his life. He then spoke about what his vision had been for the Armenian Studies Program, where he had sought to make Armenian Studies an integral part of the offerings at the University. He also spoke of his desire to see the Armenian Studies Program continue to prosper and grow in the future.
It was a night to remember for all those who had come to honor Dr. Dickran Kouymjian for his many years of service to the University, to his profession, and to the community.