Barlow Der Mugrdechian
Advisor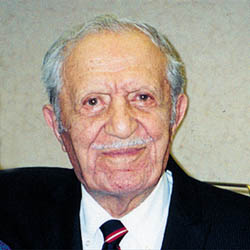 Armenian Studies Program benefactor Henry S. Kazan passed away on Saturday, April 19, 2003 at the age of 96. Mr. Kazan was born on September 9, 1906.  Victoria and Henry Kazan, of East Quoque, New York and Juno Beach, Florida have made significant contributions to the Armenian Studies Program and the California State University, Fresno over the past seven years.
The Kazan Visiting Professorship became the second endowed position in the Armenian Studies Program, in addition to the Haig & Isabel Berberian Professorship in Armenian Studies, held by Dr. Dickran Kouymjian, Director of the Program, since 1989.
Victoria and Henry Kazan met in New York and married there even though both were from Sebastia, the modern city of Sivas, in east central Turkey. They were among the rare Armenians who had left the Ottoman Turkish Empire before 1915 and thereby survived the Genocide. Henry Kazan was from the village of Zara, about 30 miles east of Sebastia. At age eight, he and his mother were sent to America by a grandfather who booked passage in steerage. He just missed the annihilation of the Armenians. Everyone left in Zara was killed; there were no survivors.
Growing up as an immigrant boy in the Armenian ghetto of Manhattan's east side, Henry Kazan quickly mastered English and American ways and picked up "street smarts" swiftly. He was an outstanding student, but had to stop going to day school in order to support the family. He continued his studies at night, finishing high school and then enrolling at New York University and completing a BA in History entirely through night school courses. He didn't stop there, earning his law degrees, both LLB and JD, again at night, at St. John's University, after which he was admitted to the New York Bar.
After serving in the US Army during World War II, he worked in the coal mining business in Pennsylvania and then landed the final job of his career with the NuTone Company, maker of electrical household products and lighting fixtures. Through tenacity and hard work, he eventually became a regional sales director and an important NuTone stockholder.
Victoria and Henry Kazan were "hooked" on higher education. Three of their nieces and nephews, who they treat as their own children, hold Ph.D.s and are academics in the humanities and social sciences. Henry Kazan would have been a history professor if he had had a choice. Perhaps this helps explain why the Kazans felt so strongly about endowing a visiting professorship and they could think of no better way to invest some of his and Victoria Kazan's money than in a permanent endowment for teaching and research in precisely those subjects, which have shaped their lives for the past eight decades.
When asked why he and his wife came so far to enhance Armenian Studies at Fresno State, Henry Kazan said. "The reason I am here is simple. Fresno State has the best and most active Armenian studies program in the country. I was approached by my alma mater New York University, but they could not offer me what I wanted. . . . For the last several years, I have been trying to combat the Turkish government's saying that there was no genocide. I know there was one. I escaped it by 15 months."
Kazan added, "The endowed visiting professorship is my way of helping ensure that the Genocide is clearly understood and never forgotten. It's my way of honoring those who did not survive."
In July of 1997, Henry S. and M. Victoria Kazan made a gift of their East Quoque, New York home to Fresno State. Proceeds from the sale of the home, which was completed in 2002, were used to establish the M. Victoria Karagozian Kazan Fund for the Armenian Studies Program. The Kazan Fund for Armenian Studies will provide support in three specific areas: 1) funding for scholarships, 2) funding for the general operation of the Armenian Studies Program, and 3) funding for the M. Victoria Karagozian Monograph and Lecture Series. This gift was another step in a continuing relationship between the Kazans, the Armenian Studies Program, and the Fresno community.
The vision of Henry S. Kazan and M. Victoria Karagozian Kazan has helped the Armenian Studies Program move closer to becoming a center that is able to support research and publication, as well as undergraduate teaching. Through the support of the Kazans, the Armenian Studies Program of California State University, Fresno has become an even stronger Program, able to attract students from throughout the United States and the world.
Kazan is survived by his sister Elizabeth Kazanjian of New York, Mrs. Kazan's nephews, Dr. Harold Aram Veeser, Associate Professor of English at Wichita State University, Dr. Cyrus Veeser, Assistant Professor of History at Bentley College in Massachusetts, Mr. Kazan's niece, Iris Kassabian of New York, and his great niece, Dr. Anahid Kassabian, Professor at Fordham University as well as Prof. Kassabian's husband, Dr. Leo Svensen, a physicist and computer specialist, and their daughter Maral.
Per Mr. Kazan's wishes, remembrances may be made to the Armenian Studies Program of California State University, Fresno, 5245 N Backer Ave, PB4, Fresno, CA 93740 or the North Shore Animal League.