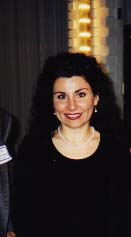 By Matthew Maroot Staff Writer
The evening of Sunday, March 15, 1998 was a memorable one for those involved with the Armenian Studies Program here at California State University, Fresno, for it was the evening of the Program's Twelfth Annual Dinner.      Over the last two decades, the Armenian Studies Program has provided students and community members alike with the opportunity to learn more about the Armenian culture, language, and history as well as contemporary issues facing our young Republic. So what better way to come together in appreciation of the efforts put forth by those who work with the Program as well as those who support it?

The evening began with a warm welcome from Arlene Srabian, Vice-Chairman of the Advisory Board for the Kalfayan Center for Armenian Studies. And after an invocation by the Very Reverend Father Sasoon Vartabed Zumrookhdian, Pastor of Saint Paul Armenian Church, guests were treated to a delightful prime rib dinner. Those in attendance agreed that one of the most enjoyable parts of the evening was the performance by Janet Momjian, Oratorio and Concert Performer. One student, Maral Elmaoglu, put it best when she described Momjian's performance as "absolutely divine." Another student, Jacqueline Arikian agreed, "I think the most enjoyable part of the evening was Janet Momjian's performance."

Another important aspect of the Armenian Studies Annual Dinner is that it allows the students of the Program and the community members who support it to come together and acknowledge one another. Attending the Annual Dinner is of great significance because it helps integrate the students with the community. Many students, busy with coursework, jobs, etc. seldom have the opportunity to recognize those who help make their education (particularly in the area of Armenian Studies) such a success.

Indeed, the success of the Armenian Studies Program is due in large part to its benefactors. In fact, such contributions to the program have helped tremendously in promoting Armenian issues throughout the community. "I think it is important for the community to support the program because without it students would not learn about our Armenian heritage," said Shayla Srabian. After all, that is one of the most significant goals of the Armenian Studies Program, the appreciation and preservation of our Armenian heritage. It is one of the very reasons why Armenian Studies Programs exist today: to increase the awareness of Armenian issues and to further promote cultural unity among all Armenians. Professor Barlow Der Mugrdechian closed the evening by recognizing the scholarship recipients for the 1997-1998 academic year. Those who attended the Annual Dinner agreed-the evening of Sunday, March 15, 1998 was a memorable one. But more importantly, their support shows a deep appreciation for the efforts put forth by the students and faculty who have helped make the Armenian Studies Program everything that it is today.