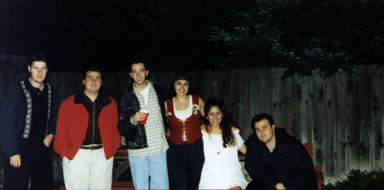 By Crissi Jelladian
The semester is coming to an end and the Armenian Students Organization (A.S.O.) is providing a relaxing weekend of fun to give students a break before finals. The trip is going to be on the weekend of December 6,7, and 8th at Bass Lake. Not only does this trip provide students with a break from the academic atmosphere, but it allows club members to join together one last time before they head home for the holidays.
Our Halloween party was the last event held and judging from the results of the turnout it's something we're going to definitely do again. The evening was filled with dancing, food, fun, and friends. It was nice to see so many new faces in the crowd and of course the old faces too!! Another IMPORTANT event coming up is an activity that will help others enjoy their holiday season. A.S.O. has decided to adopt a family for Christmas that lives at a low poverty status. The mother of these eight kids may have acted irresponsibly , but her children have no control over the mistakes their mother made in the past. To help make Christmas for these kids an enjoyable one, please take the time to go through your belongings and donate any item that appears to be fairly new. The amount of time it will take to run through your belongings is well worth the enjoyment that these children will experience. Please help us take part in making a family's Christmas brighter.
A.S.O. thanks all members for their support and hopes that it will continue through the upcoming semesters.Once again, we WELCOME ALL NEW FACES!!! If you have any questions or comments about A.S.O. call 278-2669. HAPPY HOLIDAYS!!!!!