Denise Altounian
Staff Writer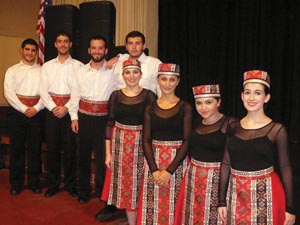 For one night only, the unique and diverse student population of Fresno State came together, on one stage, to share their culture through music and dance at Fresno State's International Culture Night, held at the Satellite Student Union on Saturday, November 17. This annual event is organized by student volunteers to promote awareness about the many cultures of the international students studying at the university. The theme of the night was "Around the World in 80 Minutes" and featured performances from a number of student groups and international students representing eight countries.
This year's committee was headed by graduating senior Ani Grigoryan. After seeing Grigoryan's commitment to the Armenian Students Organization's performance the previous year, at International Culture Night (ICN), she was asked to help organize this year's event. "Seeing so many people attend and hearing the positive comments was definitely a highlight," said Grigoryan, an international student herself.
The ASO members performed a two-part set that consisted of both a song and a dance representing Armenia. Ruzan Orkusyan, Aramais Orkusyan, and Michael Rettig performed "Chinar Es," a 20th century song made famous by Armenian composer and priest Komitas Vartabed. Ruzan Orkusyan's vocals were accompanied by her brother Aramais Orkusyan, who played the duduk, and Michael Rettig who played the oud.
ASO members Tatevik, Hovhannisyan, Noel Lenard, Marine Vardanyan, Ruzan Orkusyan, Ani Grigoryan, Lilit Grigoryan, Benjamin Tanielian, Michael Rettig, Aramais Orkusyan, and Hagop Ohanessian then danced to the music of "Sardarapat" by Ara Gevorgyan, choreographed by Ani and Lilit Grigoryan. Each student wore a modern version of traditional Armenian clothing, with aprons, belts, and headpieces.
The students spent countless hours preparing for a successful performance because of the importance of the event. They felt that ICN was a great way to present the Armenian culture to the campus community. The fun and fast paced performance showcased the best of Armenian dance and the group received a rousing round of applause following their performance.
"I think it was important for ASO to take part in International Culture Night because Armenians have such a rich culture and it is good to share it with other students and to educate them about our beautiful dances and songs. We wanted to show everyone the beauty and spirit of the Armenian culture," explained participant Marine Vardanyan.
The audience felt as if they had traveled the world in eighty minutes, taking a quick yet enjoyable stop in Armenia, thanks to ASO's dedication and fantastic performance.