Marine Vardanyan
Staff Writer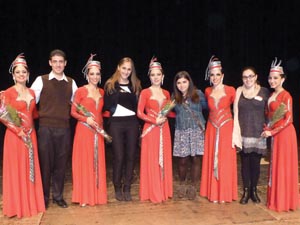 Many things can reflect the tradition of the Armenian culture, but one rich and unique aspect, which has undoubtedly played a key role in preserving the Armenian heritage, is dance. Even now, it draws individuals together and on Saturday, November 10, feelings of pride and joy were awakened in members of the Armenian community who gathered in the Veterans Memorial Auditorium to enjoy a beautiful performance by the Hamazkayin Ani Dance Company of Los Angeles. Folk and traditional dances, along with contemporary pieces, captivated the audience throughout the night as the talented young dancers performed to music by Aram Khachaturian, Sayat Nova, Komitas, Ara Gevorgyan, and more.
The Ani Company danced throughout the night, performing 22 pieces. The evening began with "Hoy Nazan," a popular Armenian folk-song, with both male and female dancers introducing themselves with energetic and vivacious dancing. The show continued with upbeat and amusing dances, along with performances with a more serious tone. Each dance told a story—there was a dance about a woman with many suitors, one about a sibling rivalry, and another about the playfulness of boys in "Khagh Bar." All of which brought smiles and laughter to the audience. Haunting dances, such as "Anlreli Zankagadun" and "Requiem" (Hokehankisd) were performed in memory of all Hamazkayin Ani Dance Company members.
The concert would not have its full effect without the mesmerizing costumes of the performers. Vibrant blues and red colors dominated the stage and dazzled the audience. The men showcased their masculinity through dances with vigorous, strong, decisive movements and leaps, while the females illustrated their gracefulness with their flexible and expressive arms and hands.
The Fresno Armenian community enjoyed and appreciated the concert. "The best part was seeing so many people enjoy the performance," said ASO member Ruzan Orkusyan.
This was not their first or last visit to Fresno, the Hamazkayin Ani Dance Company made sure their performance in Fresno was unforgettable.