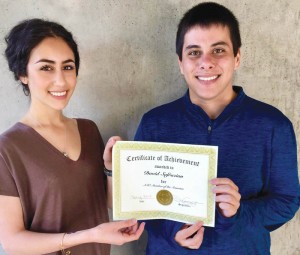 Diana Gasparyan
Staff Writer
The Armenian Students Organization has started many new initiatives this semester, with a silent auction at the Armenian Studies Program 29th Annual Banquet, and a Frozen Yogurt fundraiser.
ASO is introducing an award, called the "Member of the Semester," recognizing a member who has demonstrated exceptional effort in assisting with club events and volunteer work. The core of any organization are its dependable members, and the Executive officers wanted to show their gratitude by recognizing one outstanding member each semester.
The recipient of the Spring 2017 Member of the Semester award is junior David Safrazian, who is majoring in Biology and who is aspiring to become a pharmacist. Safrazian's hard work did not go unnoticed, with his constant participation in events and willingness to help. Safrazian joined ASO this Spring semester, but quickly grew to be a valuable part of the club.
"Being a part of ASO is something I can cherish because I can make new friends that I'll have for the rest of my life while being productive and helping the community," said Safrazian. Keeping up with all of the events throughout the semester is not an easy task, but Safrazian always attended lectures held by the Armenian Studies Program and assisted in passing out parking passes and directing guests.
Safrazian was a member of the Genocide Committee and helped bring supplies to the Genocide Awareness Event that took place on Thursday, April 20. He also volunteered to help sell ASO Genocide Commemorative T-shirts at his home church, St. Mary Armenian Church in Yettem, spreading ASO's impact. Safrazian additionally lent a helping hand at the ASO's Armenian Genocide Commemoration held on April 24, helping set up chairs, passing out programs, and setting a great example for members.
ASO is a team. The successes of ASO are due to the participation of each member, not simply one. All of the members have the common interest of wanting to share their Armenian pride while engaging in constructive activities. The "Member of the Semester" award is an acknowledgement of the outstanding members who go the extra mile.