Hagop Ohanessian
Staff Writer
Car Wash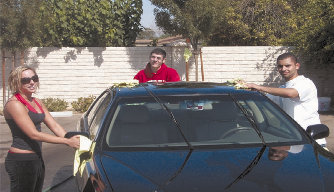 On Saturday, October 11, the Armenian Students Organization organized a car wash-fundraiser in the parking lot of Viktoria's Place, an Armenian restaurant on the corner of Herndon and Ingram. ASO would like to thank restaurant owner Zohrab Tsolokian for letting us use their facilities.
More than thirty cars were washed from 9AM to 2PM and everyone had a great time. Many different types of cars came in—some required two people to clean and others required more. It was quite a challenge when we washed Stephanie's raised Chevy Tahoe. It was quite difficult trying to wash it but at the same time we all had a blast trying to figure out where to start.
Overall, we all had a great time and ASO would like to thank all members who came out to help. We couldn't have done it without you. ASO would also like to thank Yost and Web Funeral Home for donating to the fundraiser. Thanks also to the Hye Oozh Armenian radio show, KFSR 90.7 Fresno, for announcing our fundraiser.
Halloween Party
On Friday, October 31, the ASO held a Halloween Party that took place at the Mixx (a Hookah Lounge) on the corner of Shaw & Maroa. The event was organized by the executive members who took the time to decorate for a long night of Halloween festivities. The members of the organization dressed up in interesting costumes: an angel, a bunny, three geeks, and plenty more.
There was a great turn-out as members enjoyed a relaxed evening of spending time with friends and meeting new people. There was plenty of food and dancing and what kind of party would it have been without the most important ingredient of Halloween. Yes, you guessed right, there was a lot of candy for everyone!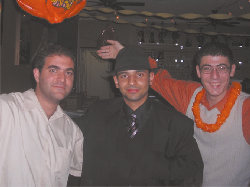 To encourage members to dress up for the Halloween party, ASO, as well as the owners of the Mixx, sponsored prizes for the best dressed costume and the funniest costume. ASO would like to congratulate Lori Havatian for having the best costume. She dressed up as a bunny and she received a twenty-five dollar gift card to Fashion Fair Mall. The funniest dressed costumes went to the three geeks (Simon Dishyan, Katchik Dishyan, and Gegham Sarkisyan) and they received a complete hookah set from the owners of Mixx.
We would like to thank all members for participating in this wonderful social event and we also would like to thank Mixx for giving us the opportunity to hold our social event at their location.
Lectures
An important part of ASO's activities includes co-sponsoring lectures with the Armenian Studies Program. This semester, we have had three scholars present on various aspects of Armenian history and culture: Sona Zeitlian spoke on "The Oral Folk Traditions of Musa Dagh"; Dr. Azat Yeghiazaryan spoke on "The Armenian Folk Epic of David of Sasun," and Jeff Masarjian, executive director of the Armenia Tree Project, presented on "The Dangers Facing Armenia's Natural Treasures: Current Risks and Opportunities."
This year the ASO has had great success in the amount of members attending events. Students are encouraged to come out and support ASO. It is a joy to see fellow Armenians bond together. It is important for Armenians to come together and enjoy each other's company. ASO looks forward to the increased involvement of students.