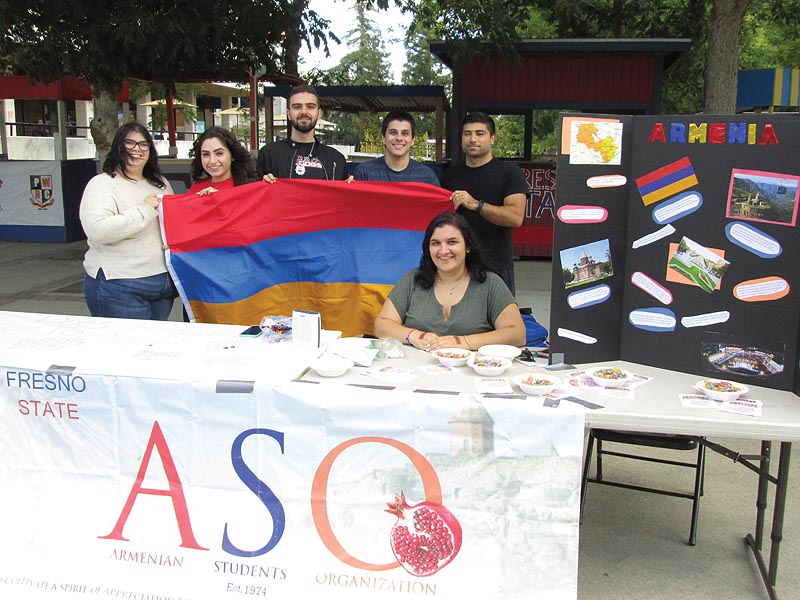 Suzanna Ekmekchyan
Staff Writer
Armenian Students Organization (ASO) festivities have officially begun for the semester. It started with the first meeting of the year held on Wednesday, August 30. More than 20 members attended the meeting, where elections for new ASO officers were held with the following results: Kara Statler (President), Claire Kasaian (Vice President), Arthur Khatchatrian (Secretary), David Safrazian (Treasurer), and Suzanna Ekmekchyan (Public Relations).
ASO Executive members are excited about the upcoming semester and are prepared to commit to their new responsibilities. The remainder of the meeting gave ASO members an opportunity to collaborate and develop ideas for social and community events. The meeting was incredibly successful due to the valuable input of each member.
Following the first meeting, members organized a clean-up of the beautiful Armenian Genocide Monument in the heart of the campus. This is something ASO believed was necessary due to the Monument's importance not only for ASO, but for the entire Armenian community.
On Armenian Independence Day, September 21, ASO set up a table at the Free Speech Area. Members passed out informational flyers, candy, and ASO rubber bracelets. ASO members had a blast as they were educating the student population about Armenian Independence Day. It provided ASO members with the chance to proudly display their culture and ask others about what freedom means to them. Temporary Armenian flag tattoos were distributed to students passing by.
A barbeque party at Kara Statler's house was the first ASO social of the semester. Many members attended along with many new faces. The social had a good turnout and members enjoyed talking, laughing, listening to music, and eating some great food. The purpose of socials is for all the members of ASO to form close bonds with one another.
Many more events are being planned for the remainder of the semester.