Tamar Karkazian & Andrew Esguerra
Editor & Staff Writer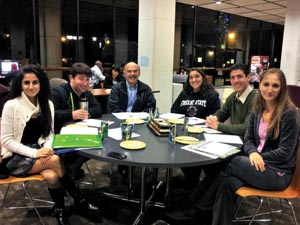 With a new semester well under way, ASO executive officers reflected on their involvement in ASO, about their goals, as well as their plans for the upcoming semester. President Hagop Ohanessian, Vice President Marine Vardanyan, Treasurer Lilit Grigoryan, Secretary Laura Chardukian, and Public Relations Officer Kevork Ajamian are all excited about the upcoming semester.
"One of our goals this semester is to further strengthen our core efforts on campus," stated history major Kevork Ajamian. One such effort is organizing the Annual Armenian Genocide Commemoration Week events. "April 24th week holds a lot of importance for our organization. It is our responsibility as the Armenian youth to contribute towards raising Genocide awareness and bringing our community together," explained sophomore Vardanyan. A lot of effort goes into planning this event and the students have already started to come together to share their creative ideas on how to share their culture with the Fresno State community.
"Another of our goals for this semester is to have fun," stated Ohanessian. A trip to Shaver Lake is on the horizon for ASO this semester, an event that Ohanessian and the rest of the ASO members and executives are really looking forward to. "Such trips really help us to bond, learn more about each other, and grow closer to one another. It's events like these that make ASO feel more like a family," added Vardanyan. They plan on taking this trip in late March/early April.
In addition to these events, the executives hope to increase attendance at their events. "We would like to involve more people and to encourage more students to become a part of ASO and to come to new and exciting events this semester," said junior Lilit Grigoryan.
These executives have learned a lot from their involvement and want to provide the same opportunity to their fellow students. Ohannesian added, "ASO has given us a great and positive impact in that it has given leadership experience, and the building of new friendships. It has also given us the opportunity to promote our culture and heritage to others."
"Being in ASO has allowed me the opportunity to meet other young Armenians and to learn about the modern country of Armenia," concluded Laura Chardukian.
The executive members look forward to an exciting, event filled semester and invite students and the Armenian community to join them.