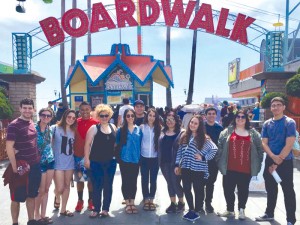 Diana Gasparyan
Staff Writer
In the past few months, the Armenian Students Organization has held several socials, events, and fundraisers. The executive team was constantly occupied with planning, organizing, and collaborating on new ideas. There was an even balance between socials and volunteer events, mixing enjoyment and work throughout the semester.
The ideas to fundraise arose due to the anticipation of the substantial costs of holding the Armenian Genocide Com-memorative events. On Friday, March 10, ASO held a fundraiser at Menchie's Frozen Yogurt. For every purchase made in the name of ASO, Menchie's donated 15% directly to ASO. The fund-raiser was very successful.
On Sunday, March 19, ASO organized and held a silent auction at the Armenian Studies Program 29th Annual Banquet. Items were donated by Rainbow Flowers, Ara Karkazian Jewelers, Harry's Bagels, Fresno Auto, and Ark Mediterranean Grill.
It was time for a break. ASO wanted to have a unique social, so they planned a scenic hike at Millerton Lake on Sunday, March 26. The weather was beautiful, and the members enjoyed the fresh air and greenery.
Once the group reached the first level of the Sky Harbor trail they had a nice picnic before heading back down. It was a great way of socializing while being active.
However, the most exciting social of the semester was the remarkable Santa Cruz day trip that took place on Monday, April 10. It was an exhilarating way to kick off Spring Break: from visiting the thrilling theme park to enjoying the relaxingly crisp sea air. Members were able to enjoy a substantial amount of time at the beach and the Boardwalk, sharing laughs throughout the entire day.
On Saturday, April 8, the ASO participated in the Fresno State First Nations Powwow. ASO had an informational table set up which attracted many guests who were curious to learn more of Armenian culture. Members discussed both Armenian history and the Armenian Genocide and answered questions. The event was a great opportunity for ASO members to get involved and work with other student organizations on campus.
ASO did not want to miss out on the chance to see the iconic new film, "The Promise." ASO went as a group to the April 21 screening of the first major Hollywood motion picture to acknowledge the Armenian Genocide. While the movie left everyone in tears, it caused all who attended great joy that the story of the Genocide was finally told on screen in such a beautiful way.
ASO's mission is to be helpful, informative, and attentive to events happening around us. Anything is possible through the pride and joy we have for our culture and our people.