Emma Shaljyan
Staff Writer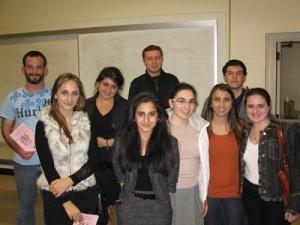 With the start of the Spring semester, the Armenian Students Organization has continued with the same enthusiasm and dedication that has driven their success during the Fall semester. "We have a lot of great events planned for this semester," stated ASO treasurer Andrew Esguerra. "We want reach out to various communities."
ASO started off the new semester with a celebration at Gateway Ice Center, as members played "White Elephant," held a gift exchange, ate, and skated.
On February 2, ASO was very happy to see its members gather together for the first meeting of the semester. Students discussed upcoming events, signed up for various activities, and caught up with one another.
"This year has been different from previous years," stated Ani Grigoryan. "We have done a lot of volunteering." Participating and volunteering at all these different events has "made us stronger as an organization and as a team," she explained.
On Monday, March 5 ASO participated in the "Camp Darfur" event on campus, designed to raise awareness about genocide. Tents were set up to represent various genocides of the twentieth century. ASO was the only club that had set up a table with additional information about the Armenian Genocide. Denise Altounian organized the event, with USU Productions. "We were very pleased that ASO wanted to participate, they were a great addition," she recounted. Along with the table, ASO set up the scale model of the Armenian Martyrs Monument (Tsitsernagapert).
ASO members taught students how to make handmade carnations to commemorate the Armenian Genocide, which were then placed on the Genocide model. The purpose was to show students that they can make a difference and help get genocides recognized; it was also meant to raise awareness about April 24. By the end of the day there was dozens upon dozens of carnations. "It made me proud to see ASO participate in a campus event," said Tamar Karkazian, assistant director for USU Productions. "They represented the Armenian community well with their knowledge and dedication. "
Looking ahead, ASO has planned many upcoming events. In the coming weeks they will take a trip to Badger Pass to learn how to ski and snowboard. In late March, Hasmik Harutyunyan will visit campus to lead a workshop on Armenian dancing.
ASO is also preparing for the annual April Armenian Genocide activities and commemoration.