Haverj Stanboulian
Staff Writer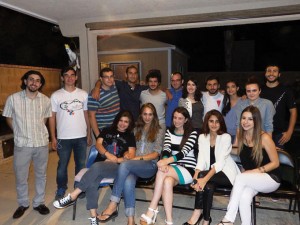 As the end of the semester approaches, the Armenian Students Organization continues with its diverse activities and events. On Saturday, October 11, ASO celebrated its 40th anniversary with a Barbeque Night. Members played games, enjoyed Armenian food, and celebrated the anniversary.
On Sunday, October 19, in the spirit of Halloween, ASO members visited Hobb's Grove "Halloween Haunt" in search of a scare. The group succeeded, according to ASO member Suzy Tsaturyan, who commented that the event "was really fun, and scary" and "a night to remember, because I spent it with my friends." The members experienced all three attractions: the "Haunted Hay Ride," the "Haunted Maze," and the "Haunted House." A day after Halloween, the annual ASO "Movie Night" took place with a screening of the comedy-horror film Zombieland.
Photo: Standing, back row: Menas Arisian, Andrew Esguerra, Aramayis Orkusyan, Tony Terzian, Benjamin Tanielian, Michael Rettig, Noel Lenard, Anto Sakayan, Haverj Stanboulian, Ani Grigoryan, and Levon Manucharyan. Seated, left to right, Tatevik Hovhannisyan, Marine Vardanyan, Sosse Kendoyan, Lilit Grigoryan, and Elena Sarmazian.
Each ASO member has a constant drive to help make a difference in the community. With the emphasis of November as a month of giving thanks, ASO showed their love of giving back through supporting and volunteering at various events.
One such event was the "Blood Drive and Coffee Hour," organized by the HYE Movement (Armenian Genocide Centennial Youth Committee). The "Blood Drive" took place on Sunday, November 9, at the Pilgrim Armenian Congregational Church, where ASO members interacted with children and ran different games, with some members donating blood. "The Blood Drive was a really fun event with a lot of potential to become bigger in the upcoming years," said Elena Sarmazian.
The volunteering continued for ASO as they honored United States Veterans at Ararat Cemetery on Saturday, November 8, by placing flags on the graves of Armenian Veterans.
ASO will conclude the month of November continuing the theme of giving back by visiting patients at Children's Hospital of Central California for Thanksgiving crafts on Wednesday, November 26.
ASO members are looking forward to the month of December, with a walk on Christmas Tree Lane on December 10 and the Annual Christmas Party on December 21.