Zhanna Bagdasarov and Marine Ekezyan
Staff Writers
It is customary that the fall semester of every new academic year begin with an official election of executive officers for the Armenian Students Organization (ASO) and this year was no different. On the evening of September 16, elections were held at six o'clock in the Bedrosian Conference Room of the Peters Business Building. The elections were preceded by the collection of membership fees, which was a prerequisite for voting in the election. Twenty five members took part in the elections.
There are five positions in the executive committee; president, vice-president, treasurer, secretary and a public relations officer. Candidacy for these positions was open to any paid member of the organization, with no previous experience required. Each of the candidates was given an opportunity to introduce themselves and present their ideas for the upcoming year. This provided the members with a better perspective of what they could expect from each candidate. Following this short introduction, the ballots were distributed, the votes were tallied, and the results were announced.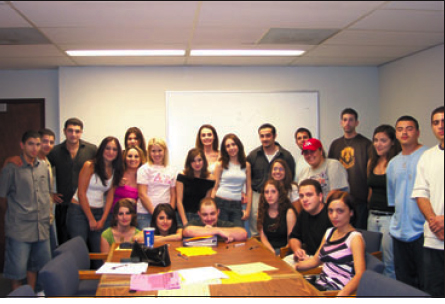 PHOTO – Left to right: Standing, Grigor Kyutunyan, Stepan Kyutunyan, Gevork Aristakesyan, Suzie Pogosyan, Srbui Fereshetyan, Kristina Pogosyan, Ashley Allred, Marine Ekezyan, Zhanna Bagdasarov, Svetlana Bagdasarov, Hakop Tataryan, Alyssa Sahakian, Alex Bunch, Jennifer Torosian, Ara Nalbandian, Lena Koujaoghlanian, Hakop Mushyan, and Gor Pogosyan. Seated, left to right, Armine Sargsyan, Windy Dunbar, Armen Postoyan, Yeranui Kglyan, Gary Krboyan, and Aida Vareldjian.
The officers elected were: President, Hakop Tataryan; Vice-President, Zhanna Bagdasarov; Treasurer, Alex Bunch; Secretary, Kristine Pogosyan; and Public Relations, Gevork Aristakesyan.
It didn't take long for the new executive team to begin their duties. All five officers, along with the ASO adviser Barlow Der Mugrdechian, remained after the election to plan some upcoming events. The executive members were ready and willing to take on the responsibility and honor bestowed on them by their fellow students, thus they wanted to put their ideas together as soon as possible in order to begin planning interesting activities for the members to enjoy.
ASO has always been known as a place to create lasting friendships, exchange ideas, and provide assistance to one another. The ASO can also help members to adjust well within the larger community of students and provides members a forum to meet people.
We would like to take this opportunity to congratulate the newly elected officers and wish them much success. It is important that the ASO members make their ideas known to the executive members, which would assist them in planning activities.