Hagop Ohanessian
Staff Writer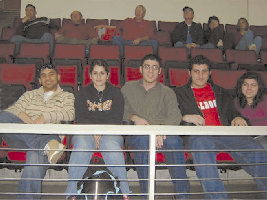 As the new semester is quickly moving along, the Armenian Students Organization (ASO) is continuing its full schedule of events. The month of February has been busy for ASO, with guest speaker Dr. Ronald Marchese, who spoke on "Armenian Constantinople/Istanbul: Church, Society, and Culture," co-sponsored with the Armenian Studies Program. The lecture attracted much interest from both Fresno State students and the general public.
On Thursday Feb. 19, ASO organized a social event by inviting members to a Fresno State men's basketball game versus Hawaii. Unfortunately, the Bulldogs lost the game but members enjoyed each other's company.
On Friday, Feb. 20 the Armenian Studies Program held the 10th Annual Armenian Film Festival, co-sponsored by the Armenian Studies Program. Prior to the start of the Festival, the ASO hosted Gohar Barseghyan, director of SF Hye, at a dinner at Viktoria's Place restaurant. Barseghyan was invited to Fresno State to present her film at the Festival. We all had a great time and learned a lot about each other.
ASO is planning and coordinating activities throughout the semester. We hope to see members get involved with planning for April 24th week, the commemorative activities of the Armenian Genocide, and to participate in other activities and lectures that are to come.