Katrina Bissett
Staff Writer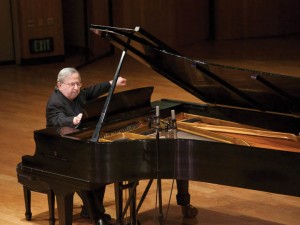 Accomplished pianist and scholar Şahan Arzruni brought his love for the music of Komitas to a Fresno State audience on Sunday, October 25, 2015. A special event in the Philip Lorenz Memorial Keyboard Concert Series, the performance, titled "Komitas: A Portrait of the Musician as a Young Priest," was a cultural treasure and was cosponsored by the Armenian Studies Program and the Thomas A. Kooyumjian Family Foundation.
Arzruni has had a career that has taken him to many countries, gaining international recognition for his talents. As a musician, Arzruni has taken particular inspiration from Komitas, an iconic figure in the tradition of Armenian music. Arzruni referred to Komitas as the "first minimalist" and the "fountainhead" of modern Armenian music. "His music is so deep," Arzruni said, "that I've been playing it for 50 years and each time I discover something new."
Arzruni's research on Komitas is fueled by a deep desire to understand and recognize the history of Armenian music. He claims that one "must understand Komitas perfectly, as much as possible, in order to understand the rest of Armenian music." Komitas was revolutionary in that he transcribed the everyday chants and melodies of the common folk, and arranged them using the musical traditions of the Western world. To understand Komitas' music is to get one step closer to understanding Armenian culture.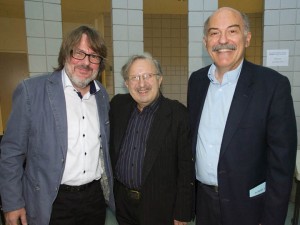 Komitas was a Vardapet (celibate priest) in the Armenian Church, who lived from 1869 to 1935. Over the course of his life he composed approximately 3,000 pieces of music, ranging from the sacred to the secular. Arzruni performed five pieces composed by Komitas: "Shoror of Mush," "Song without Words," "Seven Songs," "Seven Armenian Dances," and "Children's Pieces," chosen to highlight his stylistic evolution. Arzruni's outstanding technique and passion came through each piece beautifully, moving the audience with traditional Armenian folk music, the underlying drones striking a mysterious chord with the listener.
Arzruni was impressively well versed in the history of the music itself, providing photos and an enlightening lecture on the life of Komitas. Arzruni ensured that the audience would be well informed as well as entertained, alternating between performing a musical piece and explaining the history of Komitas' life and the significance behind the music. His interesting stories added new depth to the music, increasing the audience's enjoyment.
Overall, the concert was a great success, full of moving music, and enlightening historical accounts. The smooth blend of performer and educator told of a passionate, talented man, bringing a wonderful piece of history to Fresno.