Mitchell Peters
Staff Writer
When he speaks, you listen, when he paints, you respond, and when he smiles, you have no choice but to smile back. This is the mystery behind Ronald Dzerigian and his art.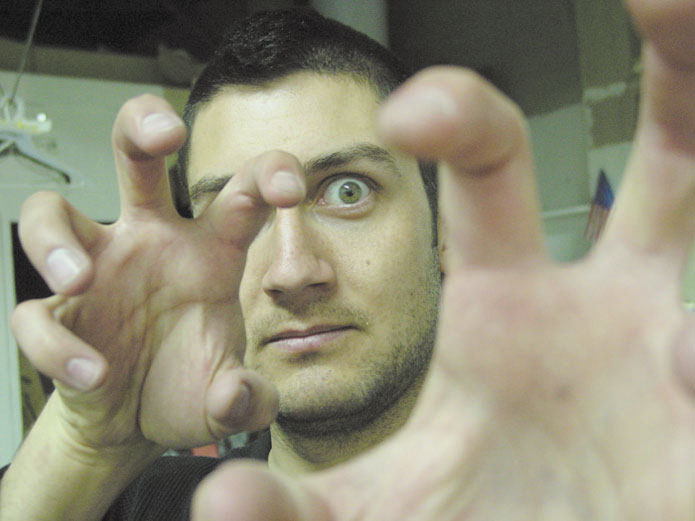 In the heart of Fresno's Tower District sits a small coffee shop where Dzerigian relaxes drinking hot mint tea. He's trying to recover from a sore-throat and exhausting car drives back and forth from Los Angeles. He's dressed in a red hat with a Smokey the Bear logo, a brown corduroy jacket and a blue T-shirt that says, "Brooklyn needs more penguins."
He's tired, but his eyes still show vibrancy and childlike innocence. As one of Fresno's most well-known and respected painters, Dzerigian reminisces on the past week of preparing for his first formal gallery show in a big city. "I'm sort of in limbo right now," Dzerigian said.
In the last month he has painted morning and night in a downtown Fresno studio, sang with former Fresno band American Sloth, and charmed the many friends who worship the ground he walks on. He's excited, fatigued and anxious to get back to New York (his place of residence) so he can begin painting again.
It's only a few days after the opening reception for his latest art exhibit, which features eight large paintings with the themes of backwards-written fortune cookie messages and organic shapes taken from his own subconscious and random children's books.
"I want you to feel as if you're standing behind it, or inside of it in a way." Dzerigian said. "I want people to feel like they're tiny inside of this big thing. Like a box of windows."
In his fascination with fortune cookies, Dzerigian decided to combine his love of Chinese food with his artistic expression. "Ever since I was a little kid I'd save my fortune cookie messages," he said.
Having almost 200 messages saved in storage and carrying more than 15 in his wallet, Dzerigian decided which messages he would use by remembering the situations in which he obtained the messages.
"It's an age-old idea I've had," he said. Like his words, Dzerigian's art is very profound but with a simple message. His latest work, however, streams off from his normal creations. In the past Dzerigian's work focused more on recycled materials, pieces of wood, and objects people have thrown away.
"The paintings in this series are more like tapestries, whereas my paintings in the past were more like pieces of wall because they're on wood," Dzerigian said.
In the artist's statement found on his website, Dzerigian says, "My approach is an intuitive one. The content of each painting or installation develops during the time that I am working and often references my childhood, our inherent sexuality, and/or everyday instances."
The 27 year-old Brooklyn-based artist left Fresno to pursue his dream of painting full-time almost a year ago. In that time, he has hung out with rock stars, worked several odd jobs and drank many cups of coffee.
Dzerigian graduated from Fresno State in 2002 with a B.A. in art, with plans to someday teach in the field of art. Later, he realized painting was the one thing that made him happy. He has had gallery exhibitions in New York, at Fresno State and the Fresno Art Museum, where he also formerly worked.
He says that being half Armenian and living in an Armenian community like Fresno, has played a large role in the development of his interests. While attending Fresno State, Dzerigian participated in Armenian Studies courses while writing poetry and painting.
He has received much of his inspiration and drive by working in the Fresno Armenian community. Not only has it provided him with opportunities to display his art, but also his music and poetry.
"Armenians are very driven people," Dzerigian said. "I learned that from my family and working with the Armenian poets." With a simplistic approach toward writing poetry, his work has been published in the first Armenian-American poetry anthology of the new millennium, Armenian Town, which was published by The William Saroyan Society and features current and former Fresno-based poets.
Along with that, Dzerigian has participated in art shows throughout the Fresno community. In 2002, he exhibited paintings in "Four Generations: Armenian-American Artists in Fresno," at the Fresno Art Museum, along with exhibits in the Fresno Metropolitan Museum, as well as several student art exhibitions at Fresno State.
As a man of many artistic facets, Dzerigian has also played bass guitar in several rock bands around Fresno including The Beauties, The Sleepover Disaster and The Panty Lions. Although music is a strong passion of his, Dzerigian decided to focus his artistic vision in painting.
"Painting combines music and poetry into one visual," Dzerigian said. "It combines all my enjoyment and pleasure into imagery." Dzerigian's art is also influenced by the music he listens while painting. For his latest series, he listenedto the music of his friends in the band Earlimart, Grandaddy and the late Elliot Smith. He is able to see various shapes within music, which are then incorporated into his painted images.
While taking a rest and staying with friends for the next month in Los Angeles, Dzerigian is anxious to start working again when he arrives back to New York. Although he hasn't started thinking about his next project, his brain is always conjuring up ideas.
His latest series was displayed at the Artcore Brewery Annex in Los Angeles through April 29th. To find out more about Dzerigian's work, visit his website at www.ronalddzerigian.com.