Marine Vardanyan-Editor
Armenian Monuments Awareness Project
http://ww.armenian
monuments.org/en/
Main Categories:
Monuments, History, Tourism, Gallery, Online Database, Educational Resources, Research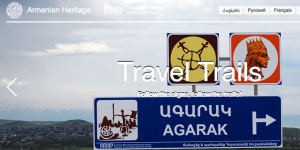 Summary:
Armenia is a country rich with sites that showcase the history and culture of its people and land. However, despite the abundance of such sites and monuments scattered throughout the country, many tourists and residents of Armenia are unaware of their existence or significance. The Armenian Monuments Awareness Project (AMAP) is an invaluable resource through which individuals can familiarize themselves with important natural sites and religious monuments.  Along with several other initiatives, AMAP uses their website as a digital means to accomplish the mission of their project. Armenianmonuments.org provides individuals access to useful tools such as learning resources for various aspects of Armenian history and culture, research papers on natural resources, and discussions on projects focused on preservation and conservation.
The focal part of the website is its extensive database of Armenian monuments. Simply input the area of interest into the search box and a plethora of results will appear for you to explore. A cleverly designed timeline ruler allows users to get precise results by choosing the distance of the site from the capital city Yerevan, and by narrowing it down to a particular period of time in Armenian history. Each monument or site features photographs, a description, map with directions, and prices and operating hours/days (if applicable).
The database also offers detailed information on trail for those with specific interests, such as bird trails through the heart of Armenia, trails focused on Christianity, and trails that provide guides to castles, fortresses, and ancient capitals. AMAP encourages awareness and appreciation for Armenia's great historical, cultural, and natural qualities.