Staff Report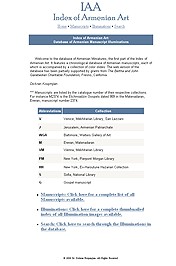 The Armenian Studies Program website has undergone some major changes recently. New webmaster Ara Nalbandian has put his expertise into improving the accessibility of several of the web site pages.
In particular, the Index of Armenian Art (IAA) Armenian Miniatures page has been redesigned in a way which has made it user friendly. The IAA now has a database which can be used to search for any manuscript illumination in the files.
The database of Armenian Miniatures is the first part of the Index of Armenian Art. It features a chronological database of Armenian manuscripts, each of which is accompanied by a collection of color slides. The web version of the database has been partially supported by grants from The Bertha and John Garabedian Charitable Foundation, Fresno, California.
Thus manuscript illuminations (miniatures), from as early as the 6th century, are now accessible throughout the world. They can be searched by date of execution and scene depicted, thereby allowing for a comparative study of the images.
The IAA brings together manuscript illuminations from the major repositories in the world: the Matenadaran, the Mekhitarist library in Venice, the St. James monastery in Jerusalem, and other major collections.
Dr. Dickran Kouymjian developed the Index of Armenian Art-Armenian Miniatures, part I of which, provides information on the formative period in the development of Armenian manuscript painting.
The newly designed web page will provide scholars with easy access to the images that they need to conduct research. The easy to use database, with its search function, is the major addition to the website.
http://armenianstudies.csufresno.edu/iaa_miniatures/