Dikran Chekian
Asp Web-Administrator – special to hye sharzhoom
www.csufresno.edu/ArmenianStudies
Total hits: 455,928
Starting day: August 14, 2002
Ending day: February 19, 2003
Total days covered: 190
Average hits per day: 2,399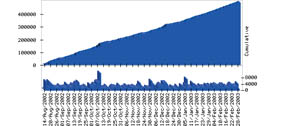 Since its overhaul in August of 2002 the Armenian Studies Program website has generated more then 450,000 hits! The website serves as a research tool for students as well as a center for the Program's general information. Students also use the website to keep up-to-date with Program scholarships, lectures, and A.S.O. events. In addition it contains course descriptions, faculty bios, faculty publications, and even a section of books that are for sale. Eight volumes of Hye Sharzhoom, beginning as early as October 1995, are archived on the site.
Dr. Kouymjian's Arts of Armenia (accompanied by 300 color slides), along with a large database of Armenian architectural and miniature art is used as a supplement to class text, and has served as research tools for outside researchers for over five years. The Index of Armenian Art: Architecture contains over 60 Armenian churches and has accompanying datasheets, plans, drawings, and photographs. Some entries have videos. The Index of Armenian Art: Miniatures holds over 300 miniatures from 25 manuscripts, ranging between the 9th to 12th centuries—this section is awaiting further growth.
The website has seen a steady increase in visits every month; currently averaging over 76,000 hits a month and over 126,000 in the past two months. The Armenian Studies Program website has received recognition by university administrators and even received special acknowledgement by a resolution drafted by Senator Chuck Poochigian stating that "the Program sponsors an important Web site devoted to Armenian art and its various activities…".
The content of the website is so valued that you can find passages, specifically the Arts of Armenia, included within other sites. The Armenian Studies Program is dedicated to providing a website that embraces Armenian culture. And with the website drawing near half-million visits, it is sure to do just that. The construction and upkeep of the site has been funded in part by a grant from the Bertha and John Garabedian Charitable Foundation of Fresno. It looks like during the 2002-2003 academic year it will receive 1,000,000 hits.