Marine Vardanyan
Editor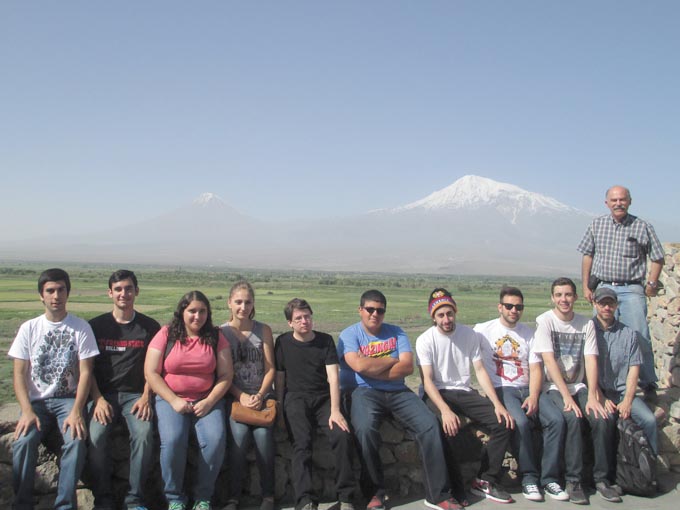 This summer, a group of nine students, led by the faculty of the Armenian Studies Program, travelled 7,024 miles to live two weeks in the ancient land of Armenia.
The group, self-dubbed the "Yerevan Eleven," was the class of Armenian Studies 120 T: Armenia Today. Prof. Barlow Der Mugrdechian and Prof. Sergio La Porta led nine students, Andrew Esguerra, Hovsep Nagapetian, Sarkis Manavazian, Alek Khatchigian, Suren Oganessian, Menas Arisian, Connor Esraelian, Lauren Chardukian, and myself on an educational journey, where they discovered the Armenia that should be experienced in person as well as in the classroom.
This trip was a once in a lifetime opportunity to witness in person what the Armenia students were raised hearing about from family members, church, and school. The course gifted the group with the opportunity to travel with experts in Armenian Studies and apply all their knowledge from personal and educational history to understanding Armenia today.
Photo – Left to right: Alek Khatchigian, Andrew Esguerra, Lauren Chardukian, Marine Vardanyan, Suren Oganessian, Hovsep Nagapetian, Menas Arisian, Sarkis Manavazian, Connor Esraelian, Prof. Sergio La Porta, and Prof. Barlow Der Mugrdechian, at Khor Virap, with Mt. Ararat in the background.
We arrived in the bustling city of Yerevan on the evening of May 27, with Mount Ararat extending its warm welcome as it peeked out at us. The almost twenty hours of tiresome travel could not extinguish the excitement each student felt as they stepped onto Armenian soil, a momentous feeling for all.
We were taken to the Yerevan State University Guest House that is a quaint 3-story building with a lovely staff that easily befriended us. Each day in Armenia included interesting discoveries and activities. A walking city tour of downtown Yerevan, a bus tour to St. Sarkis Church and Victory Park, and a massive outdoor concert and fireworks show to celebrate the independence of the First Republic of Armenia was the first of many eventful days. The liveliness of the city with its buzz and mass of people was a change from home, yet the students adjusted quickly and embraced the culture of Yerevan.
The group acquired a well-rounded experience by exploring all aspects of Armenia. We were able to get a taste of Armenian culture, history, politics, and social life all in a brief two weeks. We visited popular tourist sites both in the city and out in the different regions, and treaded off the beaten path for unique experiences not everyone gets the chance to have.
With highly knowledgeable guides, we toured the museums of the Matenadaran, the Art Gallery and Historical Museum, the Cafesjian Modern Art Museum at Cascade, and even received an insider look at the new Arshile Gorky Museum in Etchmiadzin.
We attended the Gayane Ballet at the Opera to witness the talented performance of Armenian dancers, enjoy the richly romantic music of Aram Khachaturian, and appreciate the colorfully ornamented costumes and decorations. Our Yerevan adventures also included riding the metro, tasting ponchiks, the Armenian equivalent of a donut, though much more delicious, bargaining with sellers at Vernissage Market, and experimenting with new restaurants and cafes.
From north to south, the "Yerevan Eleven" traveled the country visiting major cities, historic sites, and monuments. In Southern Armenia, the group went on a wine-tasting adventure in Areni that concluded with sweet gata and coffee-cup readings by Professor Der Mugrdechian. We visited Noravank Monastery and met with the local priest, who stressed the importance of preserving the monastery as a spiritual site.
Heading towards Tatev Monastery the group stopped at a small restaurant on the side of a mountain, where we lunched on ghaurma sandwiches before embarking on the remainder of the trip. Other out-of-town trips included Gyumri, Lake Sevan, Dilijan, and Lori Province in the north, where we hiked through the breathtaking scenery of Dsegh, toured the home-museum of famous writer Hovhannes Toumanian, visited Haghbat, Sanahin, and Odzun Monasteries, and experienced an authentic Armenian lunch at the home of Samvel Antonyan.
Not only did we gain an enriching cultural experience, but we also received exposure to the social aspect of Armenia through interactions with students from Yerevan State University, who gave us a tour of their campus, performed for us, and invited us out to an evening of Irish folk music, crayfish, a game called "Joy," and discussions of similarities and differences in our educational experiences.
We also visited Mer Hooys, a home for social orphans. Several times during our two weeks, we interacted with the young girls at pizza parties, perashki cooking lessons, and debates. We helped them practice their English and in return, they practiced Armenian with those who were not as well versed. Despite the language barrier with our group members, the high spirits and friendly attitude of the Mer Hooys girls allowed for many hours of fun.
The course schedule also included a tour of the United States Embassy where we met and held a roundtable discussion with embassy officials. Students asked a range of questions, including the Embassy's stance on the tension with Azerbaijan, the centennial of the Armenian Genocide, and relations with Russia. The opportunity allowed us to critically think about and assess the issues of modern day Armenia.
From meeting with Sister Yeghisabed of St. Gayane Monastery to chatting with schoolboys on a field trip from Kirovakan, the trip to Armenia exposed us to Armenians of all backgrounds, who exemplified the true nature of the Armenian people through their sincerity, friendliness, and hospitality. Many unforgettable moments were shared between the "Yerevan Eleven," and along with the fun that came from singing Tata Simonyan's "Anapati Arev" on bus rides, taking "selfies" at every major site, and trying the famous mulberry vodka, the course also helped each of us develop a renewed love for Armenia, one that is much deeper and real than any perception we had before the trip.
To view Mount Ararat in person, attend the beautiful service at the Cathedral of Holy Etchmiadzin, and walk among the ruins of the Erebuni Fortress were only a few of the surreal experiences that took place in the two weeks of the course. Many may have read about these wonderful sites and places, but the "Yerevan Eleven" were the lucky group who experienced it.
On June 11 the group said their goodbyes to all that had grown dear to them in Armenia. The streets, the shops, and the local people had all become cherished elements of Armenia. For many of the students, however, this farewell would not be their last.
Armenian Studies 120T: Armenia Today, impacted all of us in a life-altering manner, leaving us with tremendous gratitude for the amazing opportunity offered by the Armenian Studies Program.
Some excerpts from the student impressions of the trip follow:
Suren Oganessian
Seeing the land of my ancient ancestors, I felt like it understood me somehow, I connected to it on a subliminal level. There was no language barrier between myself and the land. I found comfort in the lands of Armenia, like a child in his mother's arms. My final realization after leaving was that, while I may not be fully Armenian I can always be proud of who and what I am, no matter what components make up my identity. But while I felt like a more whole, complete person upon returning to America, I felt like I still left a part of myself in Armenia and I ached to return one day. When the lady who worked at the customs booth at LAX told me "welcome home," I silently muttered, "I'm not home."
Connor Esraelian
Before coming on the trip, I knew little about the history of Armenia. Though I was proud of my culture and background, I didn't know what it was all about. Going to Armenia really opened my eyes to the history enriched in our culture and the turmoil and suffering we have endured. Our country has such a strong sense of family and togetherness, a feeling of pride that radiates through Yerevan and beyond. This made me have a deeper appreciation for the past Armenians who have fought to let us have the lives we have today.
Menas Arisian
Growing up as an American Armenian you hear and learn about all these stories and places that we had the opportunity to visit. Another significant impact was the ancient churches and monasteries we got to see and visit. Some were in beautiful locations in the mountains and others in the actual city. We even had the priests from various monasteries pray over our group, which was amazing, and a huge impact not only on me but our group.
Lauren Chardukian
My attitude about Armenia before the trip was not that positive. The only real connection to Armenia that I had was to the Church. Now that I have traveled to Armenia and met some interesting people, my overall attitude has become more positive. I liked being in Armenia, whether it was in the city or driving up a mountain on the way to a monastery. The country had a calmness to it, while retaining a wildness, so unlike the structure that I have seen in California. I felt that I could spend a day in one of the park cafes sitting there, drinking my "Jazzve" coffee, and be happy watching the people and listening to the sounds of the city.
Alek Khatchigian
Visiting Armenia for the first time had a big impact on me. I had always heard about my own culture and history, by reading books or hearing tales, or by seeing pictures of places that I wanted to visit. But when you are there, standing in front of a church, it feels completely different. It gives you a different perspective, in a different way than you would have imagined. In the end I was proud that I could visit my homeland at least once in my lifetime because we never know when we will be able to visit again. It was an amazing experience especially when you go with people you know and professors who are experts in almost everything related to Armenia, so you get the best explanations when you visit places.
Sarkis Manavazian
I think my favorite part of the trip and the entire aspect of Armenia is the history. It was very interesting to see the different historical sites. Even though I had seen them once before, I still enjoyed going back to the different sites and seeing them again. I did quite a bit of photography of the different sites. I would like to go back and photograph more of the social scenes and the people and get more of a perspective of the people rather than the common sites that most tourists photograph.